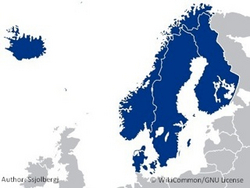 These teleseminars will provide insights on how the Nordic region employs innovation to remain competitive in an increasingly globalized world. -Jonas Matthing
Tucson, AZ (PRWEB) March 10, 2011
Nordic innovation has recently been praised in the international business press, at the 2011 Davos Conference, in the European Union, and even by President Obama. The Nordic nations - Denmark, Finland, Iceland, Norway, and Sweden - have made a concerted effort to advance the region's innovative capacity and its competitive advantage in the world.
The region's innovation accomplishments will be discussed by a panel of three international experts in "GLOBAL LEADERSHIP AT THE TOP OF THE WORLD," a series of seven teleseminar conversations beginning on March 15 at 9 AM PDT /1700 CET See http://bit.ly/h7NCBZ For Asian-Pacific participants, the teleseminars take place on March 16.
"We're thrilled to be bringing the Nordic world to the rest of the world, says series host Dr. Sandra Kay Helsel, principal of SK Helsel & Associates, a strategic-communications consultancy known for its highly-effective global advocacy of cutting-edge startups to the investor community.
"The Nordic nations have been leading innovators in every aspect of modern life, from governance to service provision to technology to sustainability," says Helsel. "The past, present, and especially the future of Nordic innovation are what these teleseminars are all about. We have so much to learn."
Each hour-plus teleseminar will begin with a conversation among the experts, to be followed by a Q&A with those listening by phone in or following the conversation on their computers. The first teleseminar is entitled, " An Oversight of Nordic Innovation. It offers an introduction to the series and touches on the key themes it will explore. Participants can sign up for all of the teleseminars or any combination.
The three experts are:
ROBERT JACOBSON, Ph.D. in Planning, is an experienced innovation-management consultant practicing in Scandinavia and on the U.S. West Coast. He is the principal of Bluefire Consulting, his own firm, and senior consultant/futurist with GEMBA Innovation A/S.
SARA PALO, Master in Policy, has been a senior adviser on innovation issues to the Nordic Council of Ministers that coordinates trans-Nordic policies and was a business development officer focused on innovation for Region Skåne, southern Sweden's groundbreaking metro government.
JONAS MATTHING, Ph.D. in Business Management, has studied and consulted on innovation and its management since 1998. He is research director for Mobile Heights, the Malmö-based industrial cluster for mobile technology companies, and works for VINNOVA, the Swedish innovation agency.
(Quotations by the experts appear below the release.)
With this series, SK Helsel & Associates is reaching out to innovation policymakers and managers not only in North America and Asia, but also in Europe and the Southern Hemisphere. The teleseminars will be available globally via a secured, toll-free local telephone numbers. For registered individuals who can't attend the live sessions, archived recordings and documentation will remain accessible online.
The registration URL for the first teleseminar is http://bit.ly/h7NCBZ. While there is no limit to the number of participants in the teleseminars, early registrants will have first opportunity to pose questions to the experts.
The seven teleseminars are:
1. Oversight on Nordic Innovation (March 15, 2011)
2. Focus on Service Innovation (TBD)
3. Opportunities and Challenges (TBD)
The following teleseminars will also feature local experts:
4. Focus on Sweden: Making to Doing, A Service Imperative
5. Focus on Finland: Creating New Industries -- from Scratch
6. Focus on Denmark: Restoring the "Danish Design" Brand
7. Focus on Norway & Iceland: From Rags to Riches I & II
For more information, contact:
Sandra Kay Helsel, Ph.D.
+1-858-752-1212
skhelsel(at)skhelsel(dot)com
http://www.skhelsel.com
QUOTATIONS FROM THE INTERVIEWEES
Robert Jacobson
As an American practicing innovation management in Norden, and trying to be innovative myself, I'm constantly impressed by the sophisticated thinking about innovation in the Nordic lands. In the USA, we're proud of Edison and his trial-and-error pursuit of the electric lightbulb. In the Nordic nations, admiration is reserved for people who've learned how to harness innovation: organic farming, the pacemaker, universal health that works, Skype, mobile technology and social networks, and modern windmills are familiar symbols of today's North. So is a love of nature that informs and enhances Nordic innovation, but that doesn't succumb to it.
And what about the future "experience industry" that is developing faster here than anywhere else?
These things don't happen by accident, so it's no surprise they aren't happening elsewhere as quickly as they are happening in the Nordic region where anticipating the future has become a habit. Innovation may be innate, but how to harness innovation can be learned. That's why we're holding these teleseminars.
Sara Palo
The Nordic countries are individually strong in the innovative area. However, we have much to gain working together as a region: for example, we have more influence internationally. This is something I'm passionate about.
In the Nordic region, we are now facing challenges for which I believe innovative thinking is the only solution, everything from energy issues to demographic changes and the more-urbanized way we work and live. Innovation is a key issue when it comes to escaping from the economic crisis we've been through. Over the course of the teleseminars we'll provide examples of how the Nordic countries have used the crisis to as a springboard to expand internationally.
I believe that the teleseminar can be of great help by providing an opportunity to speak to and learn from nationals outside the Nordic region. It's how we come to better know ourselves.
Jonas Matthing
These teleseminars will provide insights on how the Nordic region employs innovation to remain competitive in an increasingly globalized world. Nordic companies have a strong relationship with the government and the society. These institutions work in each other's favor. This collaboration is historical, but also more necessary than ever today.
Our small countries have small internal markets. As a result, Nordic companies traditionally are forced on a global mission: to create and sell what no one else can. Innovation expertise fits that category. We also walk the talk. Our national governments make enormous efforts to create safe and attractive societies that keep our well-educated, very creative people at home while attracting immigrants from other nationalities, many of whom are highly inventive as a necessity. They bring new ways of seeing and develop new ideas for improved products and services.
We will in these teleseminars shed light on how these issues are faced in the North and the unique innovation strategies now at the top of the agenda for Nordic companies as well as for governments -- of interest to everyone.
# # #