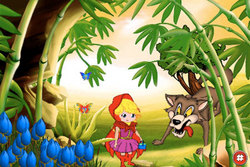 Enchanting world of Little Red Riding Hood in iTunes for iPhone.
Sunnyvale, CA (PRWEB) March 14, 2011
"My Red Riding Hood", the new app by Schogini Systems comes with a tag of being a complete entertainer for the young and old alike.
"Each scene comes with a range of animations that children will enjoy, and also, when certain objects in the scene are touched, more animations are revealed," said the spokesperson for the company.
The company says that it is a simply told tale with lots of imaginative touches that will be fun and amusing for the children to read and watch. Each page of the story is loaded with innumerable animations and is narrated beautifully that will appeal, not only to kids, but also to anyone, who loves a good story.
Schogini Systems further adds that it has put an interesting twist that lets the kids play an integral part of the story.
Schogini Systems promises to make storytelling more and more interesting, and their new app, "My Red Riding Hood", is a step towards this direction.
By bringing together animation, voice and beautiful visuals, this new app is a fresh venture to capture the imagination of the young kids and also, to make them involved in the story.
###