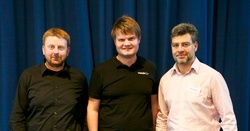 Customers can really expect to obtain true improvements in web UI development productivity.
(PRWeb UK) March 14, 2011
JPL Informatique SA is proud to announce its partnership with Vaadin Ltd, the Turku based Finnish Company behind the open source web application technology Vaadin.
Vaadin is an open source web application technology for developing rich Internet applications (RIA) in Java. Along with easier development Vaadin provides a desktop-like user experience on the web. With this technology, customers can really expect to obtain true improvements in web UI development productivity.
The Vaadin partnership will ensure JPL Informatique SA to be able to provide the best consultancy experience to its customers, allowing them to leverage Vaadin's framework capabilities to enhance web application development quality and productivity throughout the enterprise.
"While the Open Source community has provided various innovations in Java Web UI Frameworks in the past decade, we strongly believe that Vaadin framework provides a very strong, comprehensive, maintainable and scalable technology to develop Enterprise-class applications. Partnering with Vaadin Ltd. is a great opportunity for us to help our customers with web application developments challenges," said Eric Leray, CTO at JPL Informatique SA.
The Vaadin Solution Partnership program ensures that web system vendors and consultants can stand out from the open-source developers. Vaadin backs up the development work by offering a comprehensive set of tools and services to build business-class systems with Vaadin.
"The partnership with JPL Informatique SA has already proven very fruitful. The collaboration model where their solid expertise of system development is backed by our technology and services is really working. It helps us both to concentrate on what we know the best, and that's always a benefit to the customer and to the end-users," tells Partner Manager Sami Ekblad from Vaadin.
Learn more about the JPL Informatique SA and Vaadin and their services at http://www.jpl.ch/.
About Vaadin:
Vaadin Ltd is the company behind open source Vaadin Framework, used by thousands of professional developers in more than 150 countries to build high-quality web interfaces for businesses. To download the free Vaadin Framework, or to find out more about add-on tools, support and services, please visit http://vaadin.com/.
About JPL Informatique SA:
Created in 1995 in Lausanne, JPL Informatique SA offers services in consultancy, training, conception and achievement in IT engineering as well as in the marketing and in the integration of computing solutions, more information on our website http://www.jpl.ch/.
# # #