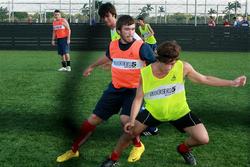 Durward Williams, Director of Strategic Alliances for Sports Endeavors, added "When Soccer 5 USA approached us about the 5v5 Soccer National League we were excited to help build the awareness of this event and 5-­‐a-­‐side soccer in the USA
Miami, FL (PRWEB) March 14, 2011
Soccer 5 USA, a leading USA soccer group and promoter of the USA's premier 5 v 5 soccer National League, today announced an exclusive sponsorship with SOCCER.COM(Sports Endeavors, Inc.), one of the world's largest soccer retail organizations.
"We are very excited to be promoting the Soccer 5 USA National League which will bring together up to 1 million soccer players and fans in the USA," said Scott Georgeson, President of Soccer 5. "This sponsorship gives us the opportunity to really develop our Play, Talk, and Shop concept – and power with passion the Soccer 5 USA's National League. We look forward to providing the platform for the largest soccer event and country-­wide community involvement for all small sided soccer fans as the evolution of the game explodes in the USA."
Durward Williams, Director of Strategic Alliances for Sports Endeavors, added "When Soccer 5 USA approached us about the 5v5 Soccer National League we were excited to help build the awareness of this event and 5-­a-­side soccer in the USA." Soccer 5 USA is already a leading US 5 v 5 tournament operator and follows the European model where 5­‐a-­side soccer, as it is commonly known, is one of the largest soccer communities. In many countries, such as the UK and France, the sport has continually grown in popularity over the past 25 years. Small-­sided soccer is also very popular across South America, from Colombia to Brazil, right in the heart of major cities where players contest on courts.
And small‐sided soccer is growing rapidly within all communities in almost every city around the USA. The premise is simple and has been reiterated in numerous articles that try to understand the lack of interest for the sport in the US; Americans find the game long and feel that there are too few points scored per match. Soccer 5's 5v5 matches seek to resolve both issues by making the field proportionately smaller, resulting in a shorter, more dynamic game with a higher score average.
More…
About Soccer 5 USA:
The evolution of 5v5 soccer in the USA, a game for all ages and skill levels for all who play soccer, talk soccer, and shop soccer. Soccer 5's mission is to see 5 v 5 soccer being played in every city around the USA via its platform of Soccer 5 USA operations, Soccer 5 live video and forums, the Soccer 5 Academy and a Soccer 5 shop powered by passion! For further information on Soccer 5 USA, contact Scott Georgeson, President, US Soccer 5 LLC Tel: 1 888 575 2976.
About: Sports Endeavors, Inc.:
Founded in 1984, Sports Endeavors, Inc., better known as Eurosport/SOCCER.COM, is the world's leading authentic grassroots soccer company. SOCCER.COM has more than two million visitors per month, and the Eurosport catalog has the largest distribution of any U.S. soccer publication. Sports Endeavors also operates leading online retail sites for lacrosse and rugby: lacrosse.com and worldrugbyshop.com.
# # #