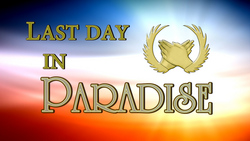 Supporting Last Day In Paradise supports many artists. It is not a volunteer project - these are paid cast and crew.
Somerville, MA (PRWEB) March 15, 2011
The new web comedy Last Day In Paradise is launching a fund raising campaign through Kickstarter. Last Day In Paradise is a show about a financially challenged salesman who gets the weirdest job offer ever - become the guru of his own. Three episodes are online at http://www.LastDayInParadise.com, and the producers are seeking $1,500 to film 2-3 more episodes.
Last Day In Paradise has an extremely efficient production method. The production company Catzilla Productions owns most of the equipment, and each day of shooting is carefully planned out. Last Day In Paradise also has a secret weapon - experienced and professional cast and crew. Unlike many web series, this is not a volunteer project. Everyone in front of and behind the camera is paid. The results have been extremely strong.
Following the http://www.Kickstarter.com model, backers get various rewards. These vary from a thank you in the credits to t-shirts, samples of organic tea (donated by boutique tea company Indonique) to exclusive online previews. Besides these fun (and delicious) rewards, backers are in fact supporting many artists at once.
People follow success. Web series are becoming very popular for low-budget filmmakers, but they are usually unpaid productions. If Last Day In Paradise can continue long enough to gain an audience, it will be copied, and more actors (and crew) will find employment.
Religion is still largely taboo in American society. Beyond the usual platitudes about tolerance, religion itself is off-limits. New Atheists such as Richard Dawkins and Christopher Hitchens have made the topic of religion a hot button topic. Last Day In Paradise doesn't make a blanket condemnation of all religion, nor does it apologize or proselytize. Religion is simply an issue worth discussing. Having made 3 episodes that outline the concept, many future episodes are planned that will explore issues of faith, reason and community.
# # #