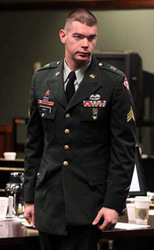 "To suggest that a jury would vote to acquit Ealy, based solely on the fact that he wore a uniform, is an insult to every juror on that panel, and a vote of' 'no confidence' in our jury system"
Covington, Kentucky (PRWEB) March 22, 2011
A Kenton County, Kentucky jury deliberated for less than one hour before acquitting Sgt. Riley M. Ealy of charges of second degree manslaughter, first degree wanton endangerment, and DUI. Sgt. Ealy faced up to 15 years in prison if convicted. The charges stem from a horrific single car wreck that occurred after Sgt. Ealy, his brother Marshal Ealy, and their good friend, James "Chops" Fry, had been out playing pool and drinking beer in a send off to Sgt. Ealy, who was scheduled to return to Iraq a few days afterward. James Fry was killed in the wreck after the vehicle slammed into a tree and rolled several times.
"This was a tragedy, no doubt, and as we have said from the start, our hearts go out to the Fry family for their pain and loss. However, the evidence at trial made it clear that no one could be definitively placed behind the wheel," said Paul J. Dickman, of Dickman Law Offices, PSC, who along with Nicholas Summe, represented Ealy.
According to the criminal charges, Sgt Ealy, a decorated Iraqi veteran who was awarded the Purple Heart for injuries received while doing route clearance and sweeping for Improvised Explosive Devices in Iraq, told several people at the scene that he had been driving the car. Sgt. Ealy also gave a recorded statement to the police that he had been driving. In spite of that, his defense at trial was that he was not driving this car, and that he made these claims because he was trying to cover for his friend, James Fry. The evidence at trial was that Ealy was not aware that Fry had died; only that he had sustained injuries. The evidence at trial supported this defense.
According to the state's accident reconstructionist, the car slammed into a cherry tree at a speed of at least 60 mph, with the brunt of the force on the front driver's side. An EMT who treated Sgt. Ealy at the scene observed the wrecked vehicle as well as Sgt. Ealy's very minor injuries. After Sgt. Ealy told him he was the driver, he looked at the car and asked Sgt. Ealy again, where he was in the vehicle. The EMT testified in front of the jury that he would have expected the driver to sustain more injuries. Fry, on the other hand suffered a broken rib, a broken clavicle, and severe liver damage. An expert for the Defense, Dr. George Nichols, former Chief Medical Examiner for the Commonwealth of Kentucky, testified that these injuries were consistent with being the driver of the vehicle. Dr. Nichols frequently testifies on behalf of the Commonwealth in these types of cases.
The lack of forensic evidence was a consistent theme throughout the trial. Dickman and Summe pointed out that there were no fingerprints collected at the scene, at least one hair sample found on the steering wheel was never analyzed, and several blood samples were not analyzed for DNA. They also noted that the investigating authorities failed to locate and preserve films from at least one video surveillance camera in the area, which could have recorded the three individuals in the vehicle that night, and could have shown who the driver of the car actually was. Dr. Nichols testified that there are very specific procedures undertaken in determining who actually was driving a vehicle in these types of cases, and said procedures that were not followed. These include detailed tape pulls for hair and fiber, microscopic analysis of the clothing of the individuals in the vehicle, and an analysis of injury patterns on the various individuals. Testimony at the trial indicated that autopsy photographs of Mr. Fry had been lost due to computer errors. This lack of evidence led Nichols to testify that it was impossible to tell who was driving the car.
"We simply asked this jury to look at all of the evidence in this case, including the forensic evidence. The testimony from the EMT's at trial certainly supported our claim that Sgt. Ealy was not driving. The forensic evidence, and to some extent the lack of forensic evidence, including hair, fibers, fingerprints, video surveillance, blood and DNA also supported that conclusion," said Nicholas Summe, Dickman's Law Partner and co counsel on the case. In a very moving closing argument, Summe demonstrated that the prosecution's own evidence suggested that Sgt. Ealy's claims that he was the driver were unreliable. Summe then asked the jury to look at the evidence that Sgt. Ealy was driving – pointing to a blank sheet of paper. Summe argued that no one could possibly have known who was driving.
The jury agreed - and quickly. They deliberated for less than an hour before returning not guilty verdicts on all three counts. The quick verdict and the fact that Sgt. Ealy was a decorated soldier led many people to speculate publicly and in the press, that the jury ignored the fact that he was guilty. They contended that Ealy was acquitted simply because he was wearing his military uniform throughout the trial. This conclusion is based on speculation and not supported by the facts.
The Defense asked for no special treatment because of Sgt. Ealy's military service or the fact that he is, in essence, a war hero. "The Defense specifically left out evidence of Sgt. Ealy's traumatic brain injuries that he suffered from experiencing 11 different IED explosions in Iraq. We tried this case on the facts and nothing else. No fluff, no smoke and mirrors," said Defense counsel Summe.
"To suggest that a jury would vote to acquit Ealy, based solely on the fact that he wore a uniform, is an insult to every juror on that panel, and a vote of' 'no confidence' in our jury system, especially when you consider that those who made these statements didn't even ask the jury. We did." Dickman added.
Ealy returned to Ft. Campbell Kentucky where he is stationed, and is expected to return to Iraq in the next few months.
Contact:
Paul J Dickman
Nicholas D. Summe
859-491-7999
attorney(at)fuse(dot)net
###