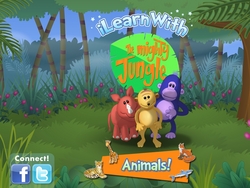 " We have developed over 100 online educational games for young children over the past 5 years. We are very excited to apply our expertise to touch screens, and particularly to the iPad" says Guillaume Aniorte, cofounder of Tribal Nova
Montreal, QC (PRWEB) March 15, 2011
The Mighty Jungle animals are hiding in the jungle. The child has to help Babu the Meerkat seek his friends, by matching the clues to the animals they have met on their way.
Educational content, rich graphics and audio, addictive game mechanics and a high production budget really set this app apart from simpler animal flashcard apps which are more appealing to toddlers.
Children also enjoy playing with the cheerful animals from the Mighty Jungle TV show, broadcast on PBS Sprout and CBC in North America and Disney Channel in South America and Asia.
This app, which has been developed with child developmental psychologists and educators, based on National Standards, has three levels, increasing in complexity, details and subject covered. Moreover, each level contains a mechanism that adjusts the difficulty based on the child's success rate. These elements combined enable the game to meet children's developmental needs regardless if they are 3 or 7 years old.
This app was specifically produced for the iPad large screen. The retail price is 2.99$ with a special launch price of $0.99 from March 15th to March 22nd. More information can be found at http://www.ilearnwith.com .
" We have developed over 100 online educational games for young children over the past 5 years. We are very excited to apply our expertise to touch screens, and particularly to the iPad because the screen size and resolution really allow us to develop high quality games, with truly educational content and gameplay " says Guillaume Aniorte, cofounder of Tribal Nova.
"Since there were already many letters or early math apps in the App store, we decided to start the line with Animals!, a key Life Sciences subject taught in preschool and kindergarten and a subject young children love. We will release language, literacy and math apps later this year" adds Pierre Le Lann, Tribal Nova's other cofounder.
For more information contact
Pierre Le Lann lelann(at)tribalnova(dot)com
514 598 0444 ext 237
App store link http://itunes.apple.com/ca/app/i-learn-with-mighty-jungle/id415640056?mt=8
Demo Video http://vimeo.com/20312803
Press Kit http://www.ilearnwith.com/presskit/
Web site http://www.ilearnwith.com
Twitter @ilearnwith
Facebook iLearnWith
About the iLearnWith educational program
iLearnWith is a cross curricular game-based learning program that helps prepare children for school, while having fun, one app at a time. It is produced by the developers behind the award winning PBS KIDS PLAY! and CBC Wonderworld online learning programs.
With self adjusting levels of difficulty, the games are designed to adapt to the child's developmental needs across a full breadth of subjects, such as, math, science, literacy, language development, social studies, creativity and much more. Games are developed based on National Standards with the help of educators and child psychologists. Each difficulty level corresponds to what a child is supposed to learn at a certain age: 3/4, 4/5 and 5/6 years old. All games feature friendly characters from popular TV shows broadcast around the globe.
About Tribal Nova
Tribal Nova is a leading developer and publisher of educational games for young children across several platforms, featuring kid's favorite TV characters such as Caillou, Bob the Builder, Animal Mechanicals, The Doodlebops, etc. The company operates the following online learning services for young children in partnership with major media partners in North America and Europe: PBS KIDS PLAY!, Kid's CBC Wonderworld and Bayard Kids. Tribal Nova's main investor is DHX Media, an international children entertainment company listed on the TSX .
###