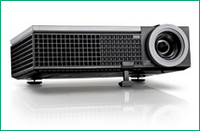 Willoughby, OH (PRWEB) March 16, 2011
This July 4th, your family can skip the fireworks display and enjoy something even more spectacular: a free digital home movie projector.
From now until July 3, participants can enter to win a Dell 1510x portable digital movie projector which can be used for celebrations, PowerPoint presentations, business applications, and movie displays. The Dell 1510x comes with the audio/visual industry's most sought after feature: DLP imaging technology, which is famous among consumers for creating darker blacks, softer whites, and real-time video without delay, color fading, or pixelation.
RentalProjectors.com is the leading audio/visual rental service serving clients across the United States with projectors and accessories for business presentations and recreational events. Started by an experienced and passionate group of audio/visual technology enthusiasts, they provide an extensive collection of LCD and DLP projector rentals to fit all levels of needs: from private office presentations to grand, outdoor movie displays.
Throughout the years, RentalProjectors.com has donated crucial equipment for disaster relief events, educational functions and charity fund-raising initiatives. The goal of RentalProjectors.com is provide people across the country with the tools to make a powerful statement, regardless of their budget, location or circumstance.
RentalProjectors.com appreciates its clients and prides itself in building lasting relationships for shared success. This year, to celebrate the birth of the nation and show appreciation for customers across the country, RentalProjectors.com will announce the winner of an industry leading Dell 1510x digital DLP projector on July 4.
To enter for a chance to win the Dell 1510x for your home theater, go to RentalProjectors.com and click "contest."
To speak to an audio/visual technology specialist or find out more about RentalProjectors.com's collection of multimedia rental products and services, call (888) 951-5060 or visit RentalProjectors.com.
###