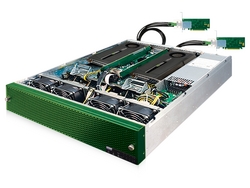 "We are pleased to have worked with XCT throughout the selection process, we believe "numbercruncher" will contribute to our research efforts across all related disciplines...", said Dr. Pande.
Richmond, VA (PRWEB) March 15, 2011
Xtreme Compute Technologies (XCT) today announces Stanford University's selection of XCT "a-BriX" NVIDIA Tesla based solutions in partnership with Scalable Informatics as part of a new 50 node (100 Tesla C2050 GPU's) heterogeneous cluster to be dubbed "numbercruncher". Stanford's "numbercruncher" will support wide range of research initiatives including computational biology, molecular dynamics, structural biology and chemical biology simulation, amongst others.
"XCT worked closely with Dr. Vijay Pande, Associate Professor of Chemistry, Structural Biology, and Computer Science at Stanford University, in defining the functional requirements and objectives for this innovative compute platform", said Jeff Fettig, Vice President, XCT. "The ultimate selection of our a-BriX Tesla GPU servers, Scalable Informatics AMD magny-cours processor based host servers and Delta-V storage, as well as infrastructure software from our partners, Bright Computing (Bright Cluster Manager) and Accelereyes (Jacket, GPU engine for Matlab®), showcases XCT's ability to deliver a purpose built solution to address our customers complex requirements from our select ecosystem of Vendor Partners."
"We are pleased to have worked with XCT throughout the selection process, we believe "numbercruncher" will contribute to our research efforts across all related disciplines and deliver class leading time to discovery and insight resulting in unprecedented scientific breakthroughs", said Dr. Pande.
"Scalable Informatics is excited to be working with Xtreme Compute Technologies, to deliver a powerful computing and storage system," said Dr. Joseph Landman, CEO of Scalable Informatics. "We have been strong proponents of accelerated computing systems, noting that they provide significantly enhanced computational capability to users, while keeping acquisition and operational costs in check. The accelerated system deployed will be used by Professor Pande's research team and others to explore important research questions. The Delta-V systems provide a cost effective storage platform for this system, while the AMD based compute node substrates for the a-Brix units provide an excellent platform upon which to build."
"As a CUDA Center of Excellence, Stanford University has demonstrated a broad use of GPUs in both its curriculum and its research," said Sanford Russell, Director of CUDA Marketing at NVIDIA. "The "numbercruncher" will be an excellent resource for Stanford's Chemical and Biological researchers and students wanting to harness the power of parallel computing."
About Xtreme Compute Technologies (XCT)
XCT, based in Richmond, Virginia is a High Performance Computing (HPC) solutions provider dedicated to delivering best of breed technologies to meet the needs of its compute and data- intensive customers across all vertical markets. The XCT "BrIx" product family is the first of a number of innovative and cost effective products that will be introduced in the coming months. Xtreme scale storage, compute, and fully integrated data center solutions will be announced in Q1 of 2011. XCT is dedicated to delivering superior value to its customers through a combination of comprehensive technical knowledge, and proactive partnerships with both its customers and vendors.
About Scalable Informatics (SI)
Scalable Informatics Inc. is a proven high performance computing solutions company, delivering pragmatic solutions for computation- and data-intensive problems. A privately-owned company, Scalable designs, builds, and supports some of the highest-performing storage and computing systems, clusters, and workstation hardware available in market. Scalable provides support, consulting, and development services as well as on-demand computing and storage capability.
# # #