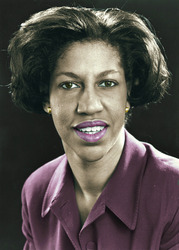 "I couldn't find a book about money from the urban youth perspective."
Silver Spring, MD (PRWEB) March 16, 2011
Author Teri Williams is plugging financial literacy among youth ages eight to 12 not only through her new children's book, but also through the bank where she is president and chief operating officer.
OneUnited Bank is giving a free copy of "I Got Bank! What My Grandad Taught Me about Money" to any public library that requests it.
Jazz Ellington, a young African American, is lucky enough to have had a granddad who set up a savings account for him and taught him the importance of savings. But the new- found focus on setting aside money sets up a series of unexpected adventures for Jazz.
After Jazz has saved more than $2,000, his mother, older brother and sister are eager to spend his money. But Jazz stays true to his grandfather's lessons. And he finds creative ways to help his family.
Says Dr. Holly M. Carter, chairperson of the department of education at Northeastern University in Boston, MA, "This book should be required curriculum in all urban schools."There's a lot for everyone to learn from the story–no matter what the age."
"I couldn't find a book about money from the urban youth perspective," explains Williams.
I Got Bank! introduces young readers to bank accounts, credit scores, and interest rates among other terms. "When children learn about financial literacy at a young age, they form strong habits that can be life-changing," says Williams, who plans a series of speaking engagements and readings to promote the book and foster financial literacy.
"Helping young people acquire financial literacy skills is a personal passion and mission both for me and for OneUnited Bank," declares Williams, a mother of two.
"Her book is a valuable contribution to the national problem of financial literacy," maintains her publisher, Barry Beckham, adding, "and we are delighted that OneUnited is giving books to libraries and public elementary schools. They first met when Beckham was her English professor at Brown University where Williams graduated with distinction before earning her MBA with honors from Harvard Business School.
OneUnited Bank is also sponsoring an I Got Bank! Essay Contest. Children must write a 500-word essay about what the book meant to them. Or they can write about any other book on financial literacy. The bank will award three winners a $1,000 saving account in August 2011.
I Got Bank! is published by The Beckham Publications Group, Inc. (http://www.beckhamhouse.com). It is available at local bookstores and online, or by calling toll-free: 1-800-247-6443. Information on the free book for libraries (supplies are limited) or the essay contest is available at http://www.oneunited.com/book.
###