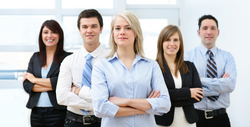 Enterprises will now benefit from instructor led training with real-world SharePoint implementation experience. G. Cohlmia
Englewood, CO (PRWEB) March 21, 2011
LeaderQuest, an IT and management training provider and Planet Technologies, a leader in Microsoft SharePoint Technology integration have entered into an agreement that leverages each other's strengths to help organizations effectively deploy and rollout SharePoint business solutions at the Enterprise level.
"By coupling LeaderQuest's comprehensive and highly customizable SharePoint training capabilities with Planet's uniquely experienced SharePoint practice, organizations across size and industry will now benefit from a seamless business integration and change management methodology to support the entire breadth of their SharePoint implementation strategy" says George Cohlmia, President and CEO of LeaderQuest.
"Through this partnership, Planet clients will now have more flexibility and more options in the approach and modality of their SharePoint training strategy to better align with unique job roles, learning styles and workplace restrictions. With LeaderQuest, we can now deliver SharePoint training to thousands of users on a global basis through a combination of e-Learning, hands-on classroom training, or onsite training capabilities" says Clayton Cobb, Planet SharePoint Architect and Microsoft SharePoint MVP. (Clayton's SharePoint blog at http://claytoncobb.wordpress.com/ offers some of the most renowned SharePoint content).
LeaderQuest and Planet will be holding a FREE one-half day seminar on using SharePoint and InfoPath on April 29, 2011. Go to the LeaderQuest Events page to learn more.
ABOUT LEADERQUEST:
LeaderQuest, a Microsoft Gold Certified Partner - Learning Solutions, offers a tailored blend of products, services, and technologies that help organizations plan, develop, deploy and manage strategic or tactical training investments in Information Technology and leadership development.
LeaderQuest has trained thousands of IT and business professionals since its inception in 2001 and uses a range of capabilities in delivering its solutions including over 400 hands-on courses, over 12,000 E-Books, and a complement of Cloud-Based learning services. All of this is delivered by a team of technology and business experts bringing results-oriented solutions to individuals, companies, and government clients. LeaderQuest
ABOUT PLANET TECHNOLOGIES:
Planet Technologies, a Microsoft Gold Certified Partner, is an international IT services and business consulting firm with expertise in the integration and customization of Microsoft technologies and data center solutions for the Public Sector, Service Providers and enterprise clients. Planet is a five time Microsoft Federal Partner of the Year and a two time Microsoft State and Local Government Partner of the Year. Visit us at http://www.go-planet.com
###