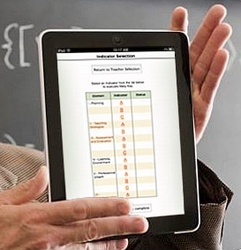 We are pleased our pilots have yielded such encouraging responses and useful feedback for updates
Nashville, TN (PRWEB) March 23, 2011
RANDA Solutions is pleased to announce the upcoming market release of their Teacher Observation app for paperless classroom observation via their patent-pending mobile device system. This announcement comes amid RANDA's cross-platform app and system field-test pilots in seven K12 school and higher ed systems utilizing eight rubrics. Under the current pilot programs, RANDA's iPad app has been named simply "RANDA Teacher Observation Pilot".
The iPad app powers field observations for the RANDA Observation Solution. It reduces tedious teacher observation paperwork using a simple, intuitive interface which is customizable for any rubric. Key current RANDA Teacher Observation Pilot app features include:

Synchronization/Offline Use: No Internet access required during field observations
Workflow: Download only teacher assignments needed for current observation workload
Scheduling: Assign a year or a week of observations - flexible to administrator preferences
Rubrics: Numerous rubrics including classroom walk-throughs
Reporting: Aggregate observation results with other data to create meaningful updated reports
"We are pleased our pilots have yielded such encouraging responses and useful feedback for updates," says Marty Reed, CEO of RANDA Solutions. "Beyond the simplicity and expediency of the app, administrators tell us that replacing paper with iPads allows them to more easily observe student teacher interactions."
As the app becomes market-available in the Summer of 2011, RANDA will extend the system's availability beyond Tennessee, where the pilot programs have been conducted.
To request information on RANDA's Teacher Observation Pilot app, visit: http://www.randasolutions.com/teacher-observation to complete RANDA's information form or call 615.915.5410.
About RANDA
RANDA Solutions is an INC. 500 software firm based in Nashville, TN serving the education sector. RANDA's tools for administrators and teachers aggregate and manage many types of education intelligence including standardized testing results, formative assessments, teacher evaluations and demographics. Historical and live data reporting, along with additional customized content, is delivered via RANDA's Homeroom secure web portal and integrates seamlessly with RANDA's cross-platform mobile applications for iPads and Android devices. Information on RANDA can be found at http://www.randasolutions.com
###