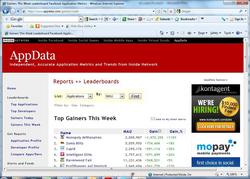 What is of key importance to any online dating company is that they need to innovate.
(PRWEB) March 23, 2011
Cupid plc are one of the few online dating companies to fully adapt to the ever changing behaviour of internet users - specifically with the increased popularity of social networking and mobile devices like the iPad and iPhone. Cupid plc have kept a watchful eye on consumer trends and adapted accordingly.
When people started to flock to facebook in their droves, Cupid set out to get its facebook apps right up there amongst the first and gain maximum exposure for the apps. across the facebook platform. They have now brought their key brands in front of the facebook audience.
The relationship between social networking sites and online dating is a marriage made in heaven really. Social Networks provide a platform for people who can connect or reconnect with people they already know, whereas Dating Sites offer a platform for you to connect with totally new people. So the addition of dating applications onto the network allows single facebook users to expand their social circle.
Max Polyakov from Cupid plc said; "What is of key importance to any online dating company is that they need to innovate. They also need to give their members new ways to meet people and constantly grow the membership so that there are more and more people to meet. Our presence on facebook ticks all of these boxes, so it's a win win for us and our members".
Amongst the many ways the company works within facebook is through the development of applications including the Cupid.com application which has a staggering 2,290,176 monthly active users (see figure 1). This application allows users to experience the cupid.com dating site from within facebook. They can use their standard facebook profile details to join, so no need to go through the registration process, making the whole experience a lot more fluid.
In the first week of March, Cupid was positioned at no. 3 in facebook's 'Top Gainers' chart, with an impressive 591,114 new users in just one week.
Cupid plc also has the BeNaughty dating application running on facebook, which has a stunning 1,494,470 monthly active users as well as others including GirlsDateforFree with over 650,000 monthly users and Flirt with a whopping 1,278,000 monthly users.
Key Facts
Cupid's portfolio of Facebook applications boasts over 7 million monthly active users
The Cupid.com app. was Facebook's third fastest growing application overall in the first week of March
Notes to Editors
For further information please contact Sean Wood tel: 0131 220 9822 or email seanwood(at)cupid(dot)com

Cupid plc (formerly Easydate plc) listed on AIM in June 2010 and is a leading provider of online dating services
Cupid has built a base of over 13 million registrants and over 9 million members in 29 countries (those countries with over 1,000 members), with a growing proportion of members coming from outside of the United Kingdom.
Cupid offers a wide variety of online dating services allowing members to interact with each other and access the content available on the Group's websites. These websites are intended to appeal to dating users of diverse ages, cultures and social interest groups. The Group's most heavily visited websites include http://www.cupid.com, http://www.flirt.com, http://www.benaughty.com and http://www.girlsdateforfree.com.
The majority of services are also available via Apple and Android App Stores for mobile users as well as through their own Facebook apps - eg. http://apps.facebook.com/cupidcom and http://apps.facebook.com/benaughtynow.
Further information on the Company can be found at http://www.cupidplc.com.
###