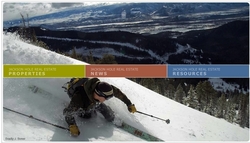 "I received an 'Arrange A Showing' notification through jhpropertyguide.com. The folks came to my open house and are serious buyers." Ted Kyle, Associate Broker
Jackson Hole, WY (PRWEB) March 22, 2011
February traffic to jhpropertyguide.com was up 17 percent when compared to the previous month. As visitation continues to build, the Jackson Hole real estate site that showcases Jackson Hole residential and commercial property debuted a new addition to its content team, assessor Andy Cornish of Rocky Mountain Appraisals.
February site visits increased to 5,290 in February, up from 4,504 in January. New visits accounted for 50 percent of traffic in February. In July 2010, the month the site debuted, http://www.jhpropertyguide.com drew 2,674 visitors. February visits were the most in any month for the site.
"Every month, people continue to come to the site and new visitors are finding an attractive and functional gateway to the Jackson Hole, WY real estate market," said Kevin Olson, who helped develop jhpropertyguide.com and serves as associate publisher for Jackson Hole News&Guide. The News&Guide and the website are owned by the same parent company.
For more than 15 years, Cornish and his company, Rocky Mountain Appraisals, have served the Teton, Lincoln and Sublette counties in Wyoming as well as Teton County, Idaho. Cornish also works as a Realtor and is the responsible broker for Brokerage of the Tetons.
Cornish joins active blogger Brian Siegfried, a former newspaper editor and current real estate agent for Sotheby's Jackson Hole. Assessor Ken Rizzotti, of Rizzotti & Company, Inc., has been penning blogs since the site started.
An advertising and marketing effort started in mid-June 2010 and has been showcased in Jackson Hole News&Guide, Jackson Hole Daily, Jackson Hole Magazine, Images West magazine, Teton Home and Living, Teton Valley Magazine as well as jhnewsandguide.com and lifeinthetetons.com.
Eight months after the launch, http://www.jhpropertyguide.com has delivered valuable contacts to Realtors. One Realtor said the website provided a valuable contact who might buy property in Jackson Hole.
"I received an 'Arrange A Showing' notification through jhpropertyguide.com. The folks came to my open house and are serious buyers," said Ted Kyle, associate broker at Jackson Hole Real Estate Associates, Exclusive Affiliate of Christie's International Real Estate.
Since October 2010, website viewers have sent 58 emails about specific properties, 15 of those emails were to arrange a showing of the property with the agent.
###