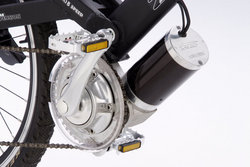 Every so often a radical new design comes along and changes everything. So it is with Tonaro's patented central drive technology and electric bicycles
Devon (PRWeb UK) March 30, 2011 –
Tonaro electric bicycles, now available in the UK from Powerpedals, represent a true revolution in the industry. Central drive technology makes electric cycling more efficient and gives riders more freedom when shifting and when choosing how to ride.
"Every so often a radical new design comes along and changes everything. So it is with Tonaro's patented central drive technology and electric bicycles," said Philip Hughes of Powerpedals. "The entire drive system is housed within the pedal cranking system and the bracket mount motor enables the bikes gears to be used with the motor. This allows you to down shift for hills and to shift up to higher gears as you gain speed."
A Tonaro electric cycle offers the following clear advantages over older bicycle technologies.
More climbing power
By working in conjunction with the bike's gears, central drive technology produces more than twice the torque of most hub motors. This gives riders much more climbing power along with lower battery usage. The Tonaro bicycle's pedals freewheel like an ordinary bike. Riders can pedal when they want, or even rotate the pedals backwards even while using the throttle.
Wireless and friction-free
Central drive technology bicycles boast no wires attached to the front or rear wheels. This also allows for easy changing and removal of both the front and rear quick-release wheels. Unlike hub motors, there is no resistance or drag from the motor when the power is switched off, so it can be ridden as comfortably as a traditional bicycle when assistance is not required. As a result, Tonaro riders can greatly increase their riding range over conventional electric bicycles. These next-generation cycles show no loss of traction as with front wheel hub motors, are better balanced than rear wheel hub motors, are virtually silent, and the entire drive system is maintenance free.
Riders are in complete control
Tonaro system riders select how much or how little assistance they require when climbing an incline or riding into a headwind. They can even take a break from pedalling and use the twist grip throttle alone. Riders may choose to speed along the flat in top gear with almost no effort, or get a vigorous workout by riding up hills with little or no assistance.
Tonaro electric bicycles are a revelation
By removing the exertion and perspiration, Tonaro electric bicycles highlight the pleasure of cycling, putting riders in control of the amount of effort required to ride. Use an appropriate level of power assistance to make a journey to work effortless; arrive fresh and relaxed and without needing a shower. Turn the power down or off completely, to provide a stimulating workout on the way home. Weekend cycling as a leisure pursuit becomes a completely new experience, there is no groan factor when faced with an uphill stretch, just switch the power on and the motor provides a gentle push, no extra effort is needed from you.
Electric bicycles are one of the most environmentally friendly means of personal transportation available. Purchase electricity from a green supplier the carbon footprint associated with owning a Tonaro bicycle is virtually zero.
Unlimited possibilities
A chance to get fitter: Electric bikes make long, hilly journeys less daunting, making it more likely the electric bike will actually be used, compared to a non- powered bicycle.
No hassle ownership: Under UK law electric bicycles do not qualify as "motor vehicles" so there is no need for a license, MOT or specific insurance.
Easy to "refuel": Find a mains socket, plug in, wait a bit - you're done!
Enjoy the benefits of cycling: Since electric bikes can be ridden on cycle tracks and other designated cycle-specific routes, riders can take advantage of the same shortcuts and lack of congestion that a regular cyclist can. No sitting in traffic, no searching for a parking place, no expensive trips to the petrol station, no CO2 emissions, more exercise. While electric bicycles are, as you would expect, more expensive than most regular push bikes, they do qualify for the government backed "cycle to work" scheme, which can save up to nearly 50% of the purchase price. http://www.powerpedals.co.uk provides access to the mycycle2work internet platform, which makes the scheme available and easy to use for even the smallest companies.
About Powerpedals
Powerpedals is a family owned company specialising is selling the best electric bicycles on the market. Their stringent requirements for products they sell make a consumer's search for a new electric bicycle easy. For more information, visit http://www.powerpedals.co.uk/.
Contact
Philip Hughes
01884 230620
philip(at)powerpedals(dot)co(dot)uk
###