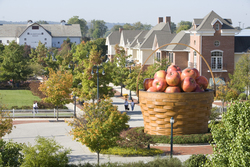 Frazeysburg, OH (PRWEB) March 31, 2011
The Longaberger Company's Homestead will reopen for the 2011 tourist season on Friday, April 1, greeting visitors with new shopping, experiential tours and Basketmaking options. The opening also corresponds with Longaberger's annual Spring Fling, which offers deep discounts on select items, door prizes and games.
Longaberger has added attractions to the Homestead and created a more robust event schedule to give people more reasons to visit and shop.
Among the new offerings is the experience at J.W.'s Workshop, where visitors can discover The Longaberger Company's storied history and tour the first Longaberger Basket Workshop. J.W.'s Workshop also is home to an exclusive basket store where all baskets have been made by a Longaberger family member.
The Basketmaking Experience Tours make Longaberger's Basketmaking process more accessible and intimate than ever. Longaberger recently relocated its Basketmaking Operations to a building adjacent to the Homestead, creating an experience where visitors can get an up close view of the entire operation. Two free tours are available: self-guided mezzanine tour anytime the Homestead is open and a floor tour led by an expert Longaberger Basketmaker. Floor tours are subject to availability. Trolleys transport visitors between the Basketmaking Facility and the Homestead.
A new shopping experience awaits people at the Longaberger Factory Store & More, formerly the Homestead Shops. The ultimate Longaberger shopping experience, visitors will see Longaberger products in home and lifestyle displays and can find incredible bargains on baskets, pottery, wrought iron and more alongside items that are exclusive to The Homestead. Shoppers can peruse The Longaberger Vault for one-of-a-kinds, limited quantity baskets and special treasures.
The Crawford Barn, a historic structure originally built in the late 1800's, is The Homestead's new home for the Make A Basket™ Shop. Visitors can choose from two new baskets to weave with the help of a Longaberger Basketmaker. The Barn also houses the company's retired Fan Favorites Baskets, which can be purchased on site.
Food options include the Homestead Restaurant, featuring home-cooked lunches and dinners; the Barn BBQ, with a range of lunch and dinner options; a hand-dipped ice cream shop in the Crawford Barn; and the bakery in the Factory Store & More.
Each year, hundreds of thousands of people visit The Homestead. The Homestead features a variety of family-friendly events throughout the season, including Spring Fling, Summer Bash, American Celebration and Heritage Days Fall Festival, among others. Here are the hours of operation:
April 1-May 28 - Open four days per week
Thursday: 10 a.m.-5 p.m.
Friday and Saturday: 9 a.m.-6 p.m.
Sunday: Noon-5 p.m.
Monday through Wednesday: Closed
June 2-November 8 - Open six days per week
Thursday: 10 a.m.-5 p.m.
Friday and Saturday: 9 a.m.-6 p.m.
Sunday: Noon-5 p.m.
Monday: 10 a.m.-5 p.m.
Tuesday: 10 a.m.-5 p.m.
Wednesday: closed*
For visitors seeking to extend their visits, Longaberger is offering a new Made in America vacation package for $259, including two-night accommodations for two; a visit to The Homestead; lunch for two and commemorative red, white and blue basket; one Make A Basket™ pass; and a signed copy of Tami Longaberger's book, "Weaving Dreams: The Joy of Work, The Love of Life." Also includes two passes to The Works museum in nearby Newark OR a bottle of wine and a cheese plate from Buckeye Winery.
Shoppers can also visit the nearby Patio Shops in Dresden to find additional Longaberger merchandise and clearance items or stop by The Longaberger Company Home Office to preview items in the current Longaberger Wishlist. Built in 1997, the seven-story office building is a replica of Longaberger's Medium Market Basket.
For more information about The Longaberger Homestead, visit http://www.longaberger.com or call 740-322-5588.
The Longaberger Company is America's premier maker of handcrafted baskets and offers other home and lifestyle products, including pottery, wrought iron and fabric accessories. There are approximately 35,000 independent Home Consultants in all U.S. states who sell Longaberger products directly to customers.
###