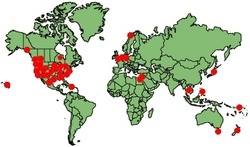 The IBS Treatment Center offers the best available testing and treatment to people from around the world.
Seattle, WA (PRWEB) April 19, 2011
The IBS Treatment Center in Seattle has served patients from all over the world. Dr. Wangen has been successfully helping people resolve irritable bowel syndrome and other chronic digestive problems for many years. In 2005, he opened the Irritable Bowel Syndrome Treatment Center, the first clinic in the nation to focus solely on addressing this debilitating condition.
The IBS Treatment Center has, since opening, been among the first to offer the best new testing available for many of the conditions that can cause Irritable Bowel Syndrome including immune system activation through foods (food allergies), microbial issues (infections, imbalances, and parasites) and other conditions. We are pleased to offer the most comprehensive testing for intestinal microbial issues, and the very latest testing for celiac disease, gluten allergy, and related immunological reactions.
Although this clinic is located in Seattle, Washington, patients often come from around the country and even beyond. The IBS Treatment Center wants to encourage all who suffer from IBS to get safe, effective, proven treatment. To celebrate more than 5 years of service and our new gluten reaction testing the IBS Treatment Center is proud to announce 10% discounts on consultation fees to the first patient (or family) coming from any of the United States, US territory, US protectorate, or province or territory of Canada from which we have not already had a patient. Those eligible (as of this writing) are residents of the following US states or territories: Indiana, Louisiana, Maine, South Carolina, South Dakota, Puerto Rico, the US Virgin Islands, Guam, Northern Mariana Islands, and American Samoa. Also eligible are those from the following Candadian territories or provinces: Manitoba, Labrador, New Brunswick, Newfoundland, Northwest Territories, Nova Scotia, Nunavut, Prince Edward Island, and the Yukon. The nations not listed on the IBS Treatment Center website page at http://www.ibstreatmentcenter.com/6_c.htm are also eligible. Contact the IBS Treatment Center for details. Offer not valid with other discounts or packages.
###