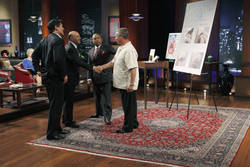 ." One of the aspiring entrepreneurs managed to get the bidding up to $4 million, a sum that Mr. Burnett said was probably "the biggest amount ever available in a nonfiction TV show." "rssbroadcast.com"
New Port Richey, FL (PRWEB) April 1, 2011
In ABC's Season Premiere of the hit reality show "Shark Tank" Joe Moore, President & CEO of the First Defense Nasal Screen Corporation stunned the sharks and millions of viewers nationwide when he turned down Robert Herjavec's offer of $4,000,000.
If someone didn't know it was the Shark Tank they might have thought it was a high priced auction as the offers started at $500,000 from Kevin O'Leary, and escalated from there. $ 800,000 to Daymond John, $1,000,000 to Kevin only to be countered by Daymond and his own $1,000,000 offer. Smelling blood and money Robert Herjavec quickly entered the bidding with a $2,000,000 offer, which Joe without hesitation declined.
Then it happened, a record breaking $4,000,000 offer from Robert with 10% royalties for life.
The tension was thicker than chum as the other sharks looked at each other in a frenzy of surprise and possibly disappointment realizing that they had just missed out on the financial chance of a life time in the world's next billion dollar product "First Defense Nasal Screens."
"My reaction was, 'Oh, my God.' It kind of blew me away," says executive producer Clay Newbill. "What happened next was even more astounding." Orlando Sentinel
With his 4 million dollar bait Robert, along with the millions watching, waited with expectations for Joe to bite at the offer. The smell of money radiated from millions of televisions all across the United States as Joe had once again just proven the "American Dream" was still alive.
With a dream and vision bigger than most, a heart filled with passion and a 17 country 8 million unit contract in hand Joe respectfully declined the offer. Mark and Kevin quickly realized that they were back in the game so they grabbed Daymond and baited their own hooks with $750,000 for 30%. After some negotiating and with season tickets to the Dallas Mavericks thrown in the bidding was over and Joe took the bait partnering with Mark Cuban, Daymond and Kevin O'leary.
The sharks didn't seem to be very hungry as they laughed and joked as Joe began to explain his new world changing product "First Defense Nasal Screens". The first and only nasal screen ever invented that is light weight, non-inserted, practically non visible, hypo allergenic and latex free giving everyone the ability to breathe cleaner healthier air everywhere.
But as Joe started to explain that his screens had been clinically proven to reduce the inhalation of airborne allergens and particles by up to 99% and that the allergy market was a 35 billion dollar a year industry in the US alone, the laughter quickly vanished and was replaced with amazement. Then Joe really stirred the waters as he unexpectedly pulled out a 6 year, 17 country, signed contract with a company in the United Arab Emirate's guaranteeing First Defense no less than 1.5 million units in first year orders with a 10% yearly growth factor as well.
Many people may think he's crazy turning down a 4 million dollar offer but with a new 7.5 million dollar contract in Nigeria and Ghana already secured and an 18 million dollar contract pending in Japan and the fact that his screens are now being sold by Amazon.com shows Joe may be a little saner than everyone thought and who knows maybe he has a little shark blood of his own running through his veins. The entire episode can be viewed at http://abc.go.com/shows/shark-tank.
###