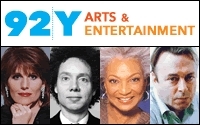 FORA.tv is the perfect platform for bringing 92nd Street Y's programming to an ever-growing global audience
New York, NY (PRWEB) April 4, 2011
92nd Street Y, New York's renowned cultural and community center, and FORA.tv, the leading online destination for intelligent video programming, have teamed up to offer selections from 92Y's renowned speaker series on FORA.tv's global streaming platform. The two new series, 92Y: Arts & Entertainment and 92Y: Politics & World Events, feature in-depth conversations with Robert Duvall, Lucie Arnaz, Rosanne Cash, James Franco, Bill Gates, Christopher Hitchens, Jeffrey Immelt and more.
The partnership with FORA.tv extends the reach of 92Y's digital content distribution, adding to its presence on Amazon.com, Audible.com, iTunesU and YouTube, as well as its satellite-broadcast initiative and its extensive archive of online programs at http://www.92Y.org.
"FORA.tv is the perfect platform for bringing 92nd Street Y's programming to an ever-growing global audience," said Sol Adler, 92Y's executive director. "FORA.tv's commitment to 'big ideas' complements our own longstanding commitment to providing an open forum for civil and civic dialogue among the best minds of our time."
"In this age of information overload and sound-bite journalism, 92Y stands out for its unflagging support of critical thinking and open discourse on the issues that matter most," said Blaise Zerega, FORA.tv CEO. "We're delighted to help 92Y reach across time zones and geography to serve an engaged community defined by their interests and passions."
Both the series and the individual programs are now available for on-demand streaming on FORA.tv. Excerpts from all the programs are available for free streaming; complete programs can be purchased individually or as a series, through FORA.tv.
92Y: Arts & Entertainment on FORA.tv
92YArts.FORA.tv
Adam Gopnik and Malcolm Gladwell
Annette Insdorff and Robert Duvall
Adam Carolla
Lucie Arnaz with Rex Reed
The Lyricist's Voice - Rosanne Cash
Christopher Hitchens and Salman Rushdie
Pioneer Women of Television
Annette Insdorff and James Franco
92Y: Politics & World Events on FORA.tv
92YPolitics.FORA.tv
Bill Gates: A Conversation with My Father
Joseph Stiglitz with Matthew Bishop
Fareed Zakaria and John Meacham
Noah Feldman with Jeffrey Toobin: The Supreme Court Then and Now
Jeffrey R. Immelt
Newt Gingrich
David Remnick on President Obama
Ed Koch, His Legacy and the Remaking of New York City
About 92Y:
92nd Street Y's unique fusion of community and culture makes it the only place of its kind in the world. 92Y is a nonprofit community center, performance stage and lecture hall; a literary salon and home for artists; a school, outreach organization and summer camp; a gym, a residence and more. 92nd Street Y, a proudly Jewish institution since its inception in 1874, has become a community of communities, welcoming people of all ages, races, faiths and backgrounds. Now serving more than 300,000 people each year in its New York facilities, 92Y also reaches millions of "virtual" guests around the world through its website, satellite broadcasts and other electronic media. Committed to making its programs available to everyone, 92nd Street Y awards nearly $1 million in scholarships annually and reaches about 7500 public school children through subsidized arts and science education programs. For more information, please visit http://www.92Y.org.
About FORA.tv
FORA.tv is the leading online destination for intelligent video programs on the people, issues, and ideas changing the world. FORA.tv presents free and fee-based viewing of the web's largest collection of videos drawn from live events, lectures, interviews, and debates going on all the time at top universities, public forums, think tanks and conferences. FORA.tv helps hundreds of organizations including the Aspen Institute, New York Public Library, and Wired reach passionate and engaged audiences with video programs on the most interesting issues within politics, business, technology, science, and culture, and the environment. FORA.tv has been named a Top 50 Web Site by TIME, and a Top Education Site by The Telegraph. FORA.tv is funded by a select group of investors led by William R. Hearst III and is based in San Francisco. FORA.tv can be found at http://fora.tv.
# # #