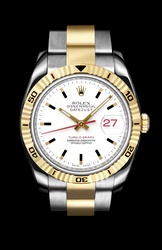 Rolex Exchange - Buy & Sell Genuine Pre-Owned Rolex Watches at Published Market Prices.
Westminster, CA (PRWEB) April 6, 2011
For the first time, consumers can trade, buy and sell Rolex watches in a true global online marketplace for Rolex buyers and sellers. Culling from over 25 years of successful business operations, the company's principals have established the "Rolex exchange" which offers a new and more efficient way of connecting Rolex watch buyers and sellers. A customer searching to "sell Rolex" can now visit bobswatches.com and quickly and easily see the current market prices for their particular Rolex watch model. Or, conversely, those looking to buy Rolex watches, can clearly find and purchase a Pre-owned Rolex watch at its true market value.
In this new ecommerce business model, Bob's Watches serves as the exchange partner, or facilitator, for used Rolex watch buyers and sellers as the secondary market for pre-owned Rolex watches was long overdue for an online marketplace to connect buyers and sellers. What sets the company apart from other pre-owned Rolex watch dealers is that both buy and sell prices are listed side by side.
"As expected, the concept of an open marketplace exchange for buyers and sellers for high end luxury timepieces has been eagerly received by Rolex enthusiasts all over the world. People are reveling at the opportunity to buy and sell in a completely transparent, open environment to get the best price," says Paul Altieri, CEO of Bob's Watches, "Now buyers and sellers of pre-owned Rolex watches can see in black and white what the true market value of any Rolex model is worth. Our customers are all looking for the best price whether they are buying or selling. "
The Internet has redefined the way consumers buy goods and services in a profound way creating a much more competitive environment. Bobs Watches prides itself on being the first and only ecommerce site to focus on both selling and buying used Rolex watches in a user friendly and secure platform.
"We want people to know the true market value of their used Rolex watch," says Altieri, "Our goal is to provide a completely transparent platform so Rolex customers are assured they are getting a great deal on their watch whether they are buying or selling. There are no middle men in the deal so both ends of a transaction will get the best value.
At Bob's Watches, customers can find pre-owned Rolex watches such as a used Rolex Ladies Stainless Steel Oyster Perpetual #6917 starting at just $1295 or a men's used Rolex Submariner in Stainless Steel,#16610 for just $3500. Similar in concept to the Stock Exchange, Bob's Watches openly displays the "Buy It" and the "Sell It" price for each model used Rolex watch. Bob's Watches acts as the financial in-between for Rolex customers looking to buy and sell Rolex's in an open market. Since the launch of their secondary Rolex site, Bob's has received extraordinary reviews and testimonials.
Bob's has created a more efficient marketplace for genuine used Rolex watches, complementing other luxury jewelry stores who offer Cartier, Tiffany, Blue Nile and Bulgari. To sell a Rolex, customers select the watch type and model on the homepage and then click on the "Sell" button to complete an information form. Their form is received and reviewed by a Bob's Watches associate who follows up with the customer with a price range of the Rolex's worth. The Rolex owner sends the Rolex to Bob's (see attached video), and then paid accordingly.
Buying a Rolex watch from Bob's Watches is as equally fast and simple using the site's quick checkout features. Rolex buyers can find nearly all models including; the Rolex Submariner, a water-resistant watch designed for diving, used Rolex Daytona named after the 24-hour Daytona race; and the Rolex GMT Master II 16710 designed originally in 1954 for Pan Am Airways pilots because of its extra hand that rotates once every 24 hours to help those who travel through multiple time zones. The site also features a large array of ladies used Rolex watches ranging from the DateJust and Yachtmaster to the very popular Ladies Rolex President. All watches are authenticated and sold with warranties.
Bob's Watches is headquartered in California with an office in Newport Beach and a buying center in Huntington Beach. For more information, please call (800) 494-3708.
About Bobs Watches:
Bob's Watches is the industry's first and only Rolex Exchange, specializing in buying and selling used Rolex watches in a user friendly and secure environment. Bob's is a community where the customers create the market. With an emphasis in luxury watches, and offering clients the most fair and honest market prices for used Rolex wristwatches, Bob's is the only Rolex seller informing the Rolex community the value of each Rolex. Bob' s Watches excels in customer service with an A+ BBB rating, excellent customer reviews, and over 25 years in Rolex expertise. When you buy a used Rolex watch from Bob's Watches, you get a 3 day unconditional money back return, and a one year warranty. They specialize in the following: used Rolex Submariner, used Rolex Daytona, used Rolex President, used Rolex DateJust, used Rolex GMT, and used Rolex Yachtmaster. Bob's Watches is your one stop shop for 100% authentic used Rolex watches. Bob's Watches is now serving cities all over the country, big or small, because Bob's wants to be your personal Rolex dealer. Bob's Watches are experts in Rolex watches and they carry genuine Rolex Watches worn by Tara Reid's Rolex, Victoria Beckham's Rolex.
Contact:
Kate Mullin, Director of Public Relations and Marketing
Katie(at)bobswatches(dot)com
800-494-3708
http://www.bobswatches.com/
###