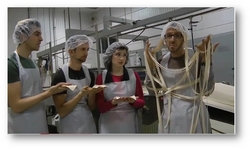 New York, NY (PRWEB) April 6, 2011
The National Jewish Outreach Program (NJOP.org) has prepared a comprehensive Passover offering aimed at helping Jews everywhere gear up for a meaningful and enjoyable Passover. As part of these offerings, NJOP today released the latest edition http://bit.ly/SederInUSA in its popular video webisode series in time for Passover.
"Passover is a tradition celebrated by many Jews, including those who are not regularly affiliated or connected with their Judaism," said Rabbi Ephraim Z. Buchwald. "But not everyone knows what to do or how to do it, and more importantly, not everyone enjoys the experience! We aim to change that and offer tools and tips to help enhance the Passover experience for everyone. This is a very special time of year, one to truly take a moment to value our heritage, religion and rights, while sharing special moments with friends, family and community."
"Best Seder in the USA"- a Music Video
Mixed by Robert L. Smith at Defy Records (Glee, Lady Gaga, U2) and produced with Unique New York Productions, the parody "Best Seder in the USA (A Passover Song)" is sung to the tune of the Miley Cyrus hit "Party in the USA." The video stars NJOP's "Nice Jewish Boy" preparing to host his very first seder. He's nervous, he's "schvitzing" but ultimately everything is going to be alright. The entertaining video, mixed by Robert L. Smith at Defy Records (Glee, Lady Gaga, U2), features the same cast that appeared in NJOP's debut hit "The Shabbat Song" http://bit.ly/ShabbatFeeling in March of 2010. "Best Seder" aims to provide a snapshot of the Passover experience, while building excitement and imbuing a tone of joy and celebration to Passover preparation for all.
Passover Across America
In its 7th year, Passover Across America will take place in dozens of synagogues, colleges, Jewish centers and other locations nationwide. Participating locations offer an explanatory Passover Seder, allowing for interaction and thought-provoking conversation among great food and company. For more information and locations hosting Passover Across America, visit http://njop.org/programs/holiday-programs/passover-programs/passover-across-america/.
Passover Podcasts
NJOP will launch a series of 15, brief podcasts featuring charismatic NJOP founder, Rabbi Buchwald, providing helpful tips and tools for those preparing to enjoy or host a Passover seder. From the basics about Matzah and setting the seder table to breaking down the 15 steps of the seder, Buchwald's series provides a quick "crash course" for intelligent and curious Jews looking to make more of their experience this year. To view the series and a downloadable pdf, visit: http://njop.org/resources/holidays/complete-guide-to-holidays/passover/
Seder Webinar
On March 25th Rabbi Buchwald conducted a leadership webinar for those who will be leading a communal seder this year. Offering best practices from NJOP's deep experience, Buchwald provided rabbis and leaders from around the country with "how to" information about keeping a seder interesting, informative and inspiring. The webinar can be viewed by anyone wishing to enhance their seder at http://njop.org/seder-webinar-introduction/.
Jewish Treats and Tweets
NJOP's social media platforms, featuring the popular Jewish Treats blog and newsletter and @JewishTweets twitter feed (the largest Jewish lifestyle twitter feed on the network) will offer up the above elements as well as daily tidbits, frequent prizes, links to interesting and relevant Passover content and answers to questions posed by the online community. To receive Jewish Treats visit http://www.jewishtreats.org/ and to follow NJOP on Twitter, visit http://www.twitter.com/jewishtweets.
About NJOP
The National Jewish Outreach Program was established by Rabbi Ephraim Z. Buchwald in 1987, in response to the spiraling losses of Jews from Jewish life due to assimilation and lack of Jewish knowledge. Since its founding, NJOP has become one of the largest and most successful Jewish outreach organizations in the world. Through attractive and exciting free programs, NJOP reaches out to unaffiliated Jews, offering positive, joyous Jewish experiences and meaningful educational opportunities. NJOP consistently breaks the mold when it comes to promoting Judaism, using cutting-edge marketing techniques to convey the vibrancy of Judaism and to attract those Jews who are not being reached by conventional efforts. NJOP's innovative programs have been offered at more than 3,889 locations across North America and in 39 countries worldwide. Through these programs and the acclaimed Jewish consciousness raising advertising campaigns, NJOP has successfully reached more than 1,171,400 North American Jews and engaged them in Jewish life.
###