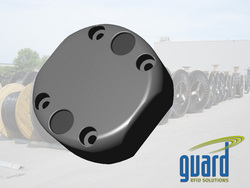 After conducting trials with GuardRFID's active RFID system, there was no doubt in our minds that the technology offered functionality and performance that even exceeded our expectations." - Yvan Bourbonnais, General Manager, Progistix
Vancouver, BC (PRWEB) April 6, 2011
Vancouver-based Guard RFID Solutions Inc. announced that it has released a highly durable tag for use in industrial type applications, complemented by a family of infrastructure products that can withstand extremes of environmental conditions. The tag is designed to endure exposure to extreme environmental and physical conditions, and can be placed on any type of surface including large metal objects without significant degradation of performance. Coupled with its new infrastructure products, a system that enables tracking, location and security of inventory and other assets placed in areas exposed to extremes of weather conditions and physical stress can now be offered.
The highly robust tag and the associated infrastructure are scheduled to be implemented at Progistix of Toronto in the second quarter of 2011, for a real-time inventory visibility and management system, and for loss prevention. Tags are placed on reels using a built-in magnetic mount, and include a motion sensor that is able to detect movement of cable reels. The system can compare the reels being picked up for processing against the manifest to achieve accuracy and efficiency, and the sensing mechanism also warns staff of unauthorized cable reel movements, while providing location information. The system can automatically distinguish between unauthorized reel movements versus authorized handling. GuardRFID's tag detection zones are also set up at exits to be able to capture movement of cable reels as they enter and exit the yard. Future expansion would include placement of infrastructure at various Progistix locations, providing real time visibility of cable reel movements throughout the entire enterprise.
"We are looking forward to completing the implementation of our Active RFID system, as we expect a rapid return on investment for our company through greater efficiencies and real-time inventory visibility," says Yvan Bourbonnais, General Manager of Progistix, "We chose GuardRFID's system after conducting a comprehensive search of technologies available to suit our operational needs and also our environment. After conducting trials with GuardRFID's active RFID system, there was no doubt in our minds that the technology offered functionality and performance that even exceeded our expectations."
"I am excited about the release of the new product line, as it enables us to provide sophisticated real time location and security systems in environments that were previously challenging to us," said Zahir Abji, GuardRFID's President and CEO. "We are pleased and honoured to partner with Progistix to implement our first such solution, and I look forward to the completion of the deployment. The Progistix system will demonstrate the value that GuardRFID's Active RFID technology can provide to the operations of other companies by enhancing their operational efficiency through real-time visibility."
About Guard RFID Solutions
GuardRFID develops Active Radio Frequency Identification (RFID) technologies and products for Healthcare, Industrial and Enterprise applications. GuardRFID's products can accurately track and locate equipment, materials and people for enhanced automation, workflow, monitoring and security solutions – all on one flexible platform. GuardRFID Solutions Inc. is federally incorporated in Canada, with its head office in British Columbia, and its Sales office in Chicago, IL.
GuardRFID Contact:
Zahir Abji, President and CEO
info(at)guardRFID(dot)com
http://www.guardRFID.com
About SCI Group
SCI Group is a leading provider of high value-add supply chain solutions to the Canadian marketplace. Through its operating entities SCI Logistics, Progistix, and First Team Transport, SCI Group offers business-to-consumer, business-to-business and field service logistics solutions to organizations in the e-commerce, retail, telecom, high-tech, health care and manufacturing sectors. SCI Group helps companies reduce cost and improve service through the design, implementation and operation of more efficient supply chain solutions.
# # #