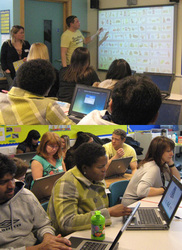 When learners get the big picture, it's just a matter of choice!
(PRWEB) April 7, 2011
Many children do not gain as much as they should, either socially or academically, from their secondary education because they do not have a good understanding of the 44 sounds and 120 key spelling choices of English when they leave primary school and, as a result of this, have difficulty reading and spelling. British educational psychologist, Alan Davies, believes that testing all primary school children on their understanding of these sounds and key spelling choices before or during their final year at primary school, and making the results known to their parents and new secondary schools would do much to overcome this problem. He has therefore devised the English Phonics Test software application, a low-cost, simple solution, to enable primary schools to do this.
In 1992, Davies systematised English Phonics with his groundbreaking 'big picture' spelling chart, which some have since referred to as the 'Periodic Table of Phonics', on account of there being a specific location for spellings that represent the same sound. The chart has been developed over the years and has always been central to his internationally-acclaimed THRASS (Teaching Handwriting Reading And Spelling Skills) programme. Davies therefore has a long history of educational innovation and firmly believes that, "When learners get the big picture, it's just a matter of choice!".
The English Phonics Test software, which can be used by children and adults, working on their own or in a class or group, uses 120 keywords (each with a memorable picture) to progressively introduce, revise and test knowledge of the sounds and key spelling choices, and produces a time, grade and star rating for each pupil. The application has seven modules: the interactive Picturechart that introduces and revises the keywords; Teaching Levels 1-5 that introduce and revise the sounds and key spelling choices and all have timed practices; and the interactive Word Bank that allows users to re-create the keywords and also to create thousands of other words. At the end of the test, in which the 120 keywords must be spelt in the fastest possible time and each key spelling choice selected from 120 possibilities, the user is given a Grade and Star Rating ranging from a Grade A (7 Star) performance, which indicates an excellent level of understanding for the sounds and key spelling choices of English, if the test has been completed within 30 minutes, to a Grade G (1 Star) performance, if the test has been completed within the maximum time of one hour, or Grade H, if the test was not completed within the time limit.
Davies thinks that, from a national perspective, it is sensible for all Year 6 pupils to do or re-do the English Phonics Test in their final year at primary school and for primary school headteachers to pass on test grades for all Year 6 pupils to secondary schools, so that they are aware of which pupils have an excellent understanding of English Phonics (those scoring Grade A) and which have a poor understanding (those scoring Grade G or Grade H). Secondary schools can then make the necessary provision in the first couple of terms, to bring the low-scoring pupils up to speed using exercises designed to improve knowledge of the sounds and key spelling choices, so that they will be more able and more likely to make the most of the opportunities provided within the secondary school curriculum. The software can, however, be used at any age and the test can be administered at any time, if schools wish to monitor the progress of particular children (for example those with a special educational need or those learning English as an additional language), groups or classes.
The English Phonics Test, which is also marketed as Sound It Out, is currently being trialled with children, teachers and parents in primary schools in England, Wales, South Africa and Zimbabwe. A deputy headteacher at a state primary school in England wrote, "All our staff have now completed the English Phonics Test. They were extremely competitive, which was amusing for all to see, and some did it more than once because they were not happy with their time!" A small group of parents at the school is now running regular workshops to introduce other parents to the software so they, too, have a better understanding of the building blocks of English words and feedback from these has been excellent. And a teacher of 7 year-olds at a private school in South Africa wrote, "This is absolutely amazing! I'm not sure how I am going to persuade the children that we have to do other subjects and cannot spend the entire day doing Sound It Out!".
The English Phonics Test application or the Sound It Out software enables children to better segment and blend unfamiliar English words before learning to read, spell and pronounce them, and to better recognise the similarities and differences in groups of words. Both are easily affordable options for schools and parents, with the English Phonics Test application for iPad and Android tablets costing £2.39 and the Sound It Out software for PC and Mac computers costing only £5 + VAT for each computer or £50 + VAT for any number of computers connected to the same server. And, if it is possible to bring about a significant improvement in the literacy levels of the children who have been identified as needing help in just the first couple of terms of secondary education, there is surely a very strong argument for primary schools using both the English Phonics Test and Sound It Out much earlier in order to identify those children.
To find out more about the English Phonics Test application and the Sound It Out software, visit http://www.thrass.co.uk
Issued by: THRASS UK News Media Centre http://www.thrass.co.uk/nm.htm
Mike Meade, Media Director, +44 1829 741413 Mob: +44 7970 151 738
Chris Griffiths, International Development, +30 698 101 8036
###