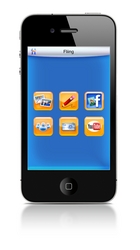 Movement as an element of communication is innate to humans and it is therefore important to bring it to the computer interface. Fliing accomplishes this for mobile devices. " Peter Teriete, Ph.D., Scientific Advisor for fliing.
San Diego, CA (PRWEB) April 12, 2011
A new version of the fliing iPhone, iPad, and iPod Touch application just released to the iTunes App Store. Using the same motion as one would use to toss someone a photo, note, or business card, fliing enables the sharing of content between Apple mobile devices. Users have the choice of transferring their content via Wi-Fi or Bluetooth. Bluetooth has the added benefit of being able to share anywhere - meaning fliing is not dependent on a Wi-Fi or 3G/4G connection.
Fliing Technology – fliing uses the patent-pending Fliing Technology which utilizes a hand-held computing device's accelerometer to initiate data transfer. The first platforms for launch were Apple mobile devices - with Android development currently underway. (http://www.fliing.org)
The fliing team encourages users to "get out, stay connected, and live beyond the cloud."
Fliing is a trademark. Other product names are trademarks of their respective owners.
©2009. All rights reserved.
For more information, contact: christine(at)fliing(dot)org
###