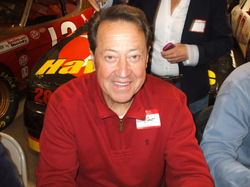 Cayce, SC (PRWEB) April 12, 2011
Harry Gant fans can be face-to-face- and on-on-one with this year's Grand Marshal at the third annual Love Chevrolet Columbia Speedway Festival and RacersReunion. Gant ran several races at Columbia Speedway on his way to the top level in NASCAR. One of the most popular features of the event will be an autograph session between 1:00 PM and 3:00 PM on Saturday April 16th that will in addition to Harry Gant, include many great local and national stars such as Billy Scott, Paul Lewis, Ned Jarrett, Barry Dodson, Little Bud Moore, Harold Fountain, Travis Tiller, Wadell Wilson, Don Tilley, Gene Hobby, Jimmy Helms, Harold Fountain, and many more. Media personnel will be given access to the celebrity guests from 12-1 PM in the event hospitality tent.
The third annual Love Chevrolet Columbia Speedway and RacersReunion begins April 14th at 6:00 Pm for a chicken bog cook-off, Etheridge and Kimpland concert and, candle light track walk. Friday's festivities include the Maurice's Barbeque Cruise-In, Lizard's Thicket Fish Fry, and Black Bottom Biscuits concert. The 50 Years of Love parade leaves Kmart parking lot in West Columbia at 9 AM Saturday morning en route to Historic Columbia Speedway. In addition to the parade and autograph session on Saturday, there will be The Car Show at RacersReunion, vintage race car display, memorabilia auction, and a concert with eleven-year -old singing sensation Macayla Reese. Two of the songs being performed by Macayla were written for, but never performed by, the late Patsy Cline. Ron Pestana and The Pit Crew from Concord, California will be performing songs from their racing CD as well.
Tickets for the event are $5.00 for Friday and Saturday combined. Children under 8 are admitted free and Thursday's admission is free with a parking donation. Military personnel can receive a half-off ticket with military ID. Further details can be found on the Stock Car RacersReunion Events Calendar at http://www.RacersReunion.com.
###