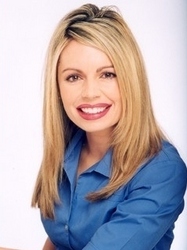 Scottsdale, AZ (PRWEB) April 13, 2011
What's better than speed dating? Speed social media marketing! Alexi Venneri, co-founder and COO of Digital Air Strike, one of the nation's leading social media marketing and reputation management firms, will offer 50 tips for improving the impact and effectiveness of social media campaigns at the 10th Digital Dealer® Conference & Exposition, April 19-21 at the Rosen Shingle Creek Resort in Orlando, FL. The session will be held from 3:30 – 4:20 pm in the Panzacola F&G rooms on Wednesday, April 20th.
Get your pens and pencils ready – Venneri will share real examples from top dealers at the astonishing speed of approximately one per minute! "Everybody talks about social media, but if you're running a business, you need action items that you can use in the real world – and you need them fast," says Venneri, the celebrated author of "BALLS: Six Rules for Winning the Business Game" (Wiley). "We're going to focus on real social media and reputation management examples from successful dealerships across the country."
Get action items you can bring back to your store and use immediately including tips like learning how one dealer got 22 positive reviews in one day and how another dealer increased organic traffic from the search engines by nearly 30% in just a few months.
Learn how top dealers generate ROI from both social media and reputation management. See real examples of what they did to turn social media into a web site traffic generator. If you only go to one social media session, make it this session. It is intentionally "social," including chances to win an autographed book -- and based on the speaker's book title, you know the session won't be boring!
Find answers to your social media questions in this "must see" session that provides a "speed round" of tips from top dealers including the country's top Toyota eDealer and one of the nation's leading Honda dealers.
"This session will be fun and extremely useful to dealers looking to boost the ROI of their social media marketing campaigns," says Venneri.
About Digital Air Strike
Digital Air Strike is one of the fastest growing social media marketing and reputation management companies. The company pairs innovative technology with a team of digital specialists to provide a complete solution for automotive related businesses nationwide. With expertise spanning 25 manufacturer brands and direct dealership experience, Digital Air Strike is able to take action to improve online reputations and organic search engine rankings, delivering quantifiable results for dealers, dealership groups and OEMs. Digital Air Strike works with dealers to give their business an advantage by leveraging new social media marketing tactics and using technology to promote positive reviews while reducing the impact of negative online content. For more information, visit http://www.digitalairstrike.com or call 1.877.536.0101.
About 10th Digital Dealer® Conference & Exposition
The 10th Digital Dealer® Conference & Exposition is the ideal learning and networking venue for dealer principals, general managers, general sales managers, internet sales managers, e-commerce directors, BDC managers, CRM managers, pre-owned managers, F&I managers and fixed operations managers. The 10th Digital Dealer® Conference & Exposition is the premier event for any dealer and dealership manager who wants to learn about maximizing the Internet and technology to sell and service more cars and trucks.
The theme for 10th Digital Dealer Conference & Exposition is The Future is NOW! and features more than 70 sessions on cutting-edge topics for dealers and managers such as using and managing social media to build business, online reputation management, effective website analytics, and more. For more information, visit http://www.digitaldealerconference.com.
Media Contact: Marilyn Sheedy / marilyn(at)digitalairstrike(dot)com / 1.877.536.0101
###