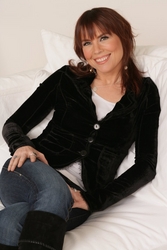 "I firmly believe that every man, woman and child has the right to live their lives in a healthy and safe enviornment free of emtotional, physical or sexual abuse or the fear of such abuse." Annie Duke
Los Angeles, CA (PRWEB) April 15, 2011
Annie Duke, Commissioner of Federated Poker League and Poker Celebrity famous for her poker victories and contributions to the poker industry, is the 2011 Celebrity host for the 5th 1736 Family Crisis Center Annual Poker Charity Tournament. Join Annie and Celebrity Tournament Director Dianna Donofrio-Tirgatzi,along with sponsors Toyota Financial Services, Poker Player's Alliance, Full Tilt Poker and ProVisionMedia for a fun-filled evening of poker, laughter, dinner and celebration on Saturday, May 14th at 3:00pm at the LA Center Studios.
Each poker hand played that evening will be a strong step forward in ending domestic violence. All proceeds from this tournament will benefit 1736 Family Crisis Center in their work to end domestic violence.
"On Saturday, May 14, I will be hosting a poker tournament with all proceeds going to 1736 Family Crisis Center. This tournament will take place at the L.A. Center Studios in Los Angeles, CA. I invite you to consider joining me as a sponsor, player or spectator and help this nonprofit agency, whose work I admire. 1736 Family Crisis Center offers life-saving services to domestic violence victims and abused, homeless youth. I firmly believe that every man, woman and child has the right to live their lives in a healthy and safe enviornment and to conduct their lives without emotional, physical, or sexual abuse, or the fear of such abuse." - Annie Duke
1736 Family Crisis Center operates an emergency youth shelter in Hermosa Beach, CA, and four shelters for domestic violence victims and their chidlren who are escaping severe abuse. These shelters are located throughout Los Angeles County in confidential locations. Through the Center's five shelters, three clinics, five 24-hour emergency response stations and outreach services, over 25,000 abuse victims and children were helped in 2010. The most severe cases seen in hospital and emergency rooms, courts, public protective services, and social service agencies throughout Los Angeles and beyond were taken into 1736 Family Crisis Center's care.
Confirmed celebrity poker players include Jamie Gold, Tom McEvoy, J.J. Lieu, Cyndy Violette, Joe Reitman, Yosh Nakano, Marsha Waggoner, John Hennigan, Ali Nejad, and poker industry professionals Lupe Soto, Jennifer Winter, World Poker Tour Director Matt Savage, Lisa Wheeler, and Rob Grackie, just to name a few. Also attending are Producer/Director Yancy Arias with his wife, Actress Anna Alvim, and Erik Aude.
Annie's Texas Hold-Em Poker Tournament will be on Saturday, May 14th, at 3:00pm at the LA Center Studios. The buy-in is $230.00 with $100.00 re-buys available; $100.00 entrance for casino games and $75.00 to spectate and enjoy the dinner and silent auction. 1st prize is a $10,000.00 seat at the World Series of Poker; 2nd Prize is a private poker lesson with Annie Duke; 3rd prize is Golf for 3 with a PGA Pro; 4th Prize is a Vegas 2-night stay at the Polo Resort, and many more. As seating is limited, we encourage you to make your reservations early. Buy-ins or donations can be sent to 1736 Family Crisis Center, 2116 Arlington Ave. Suite 200, Los Angeles, CA 90018, Attn: Poker Tournament or purchased by accessing 1736 FCC's website - http://www.1736fcc.org or calling (310) 543-9900 ext. 210. Please contact Tobi Quintiliani, Senior Director, for more information on tournament buy-ins or sponsorship opportunities.
###