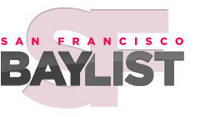 "Luxury Pets is honored to receive this kind of recognition from our community and hopes to continually present pet parents with quality and inventive ways to help their four-legged friends express themselves in comfort and style." - Keith Sanna, CEO
San Francisco, CA (PRWEB) April 19, 2011
Today, the people have spoken! Luxury Pets® Furnishings & Accessories has proudly earned First Place in SF Baylist's 2011 Winners for BEST Pet Supplies, as well as Second place for BEST Pet Couture. SF Baylist collected over 90,000 votes in 182 categories to determine the finest San Francisco Bay area businesses.
CEO Keith Sanna said: "Luxury Pets is proud to create and manufacture our unique products locally, right here in San Francisco and the surrounding Bay area. We are honored to receive this kind of recognition from our community and hope to continually present pet parents with quality and inventive ways to help their four-legged friends express themselves in comfort and style."
Chief Operations Officer Michael Gallotta said: "In traveling the world showcasing Luxury Pets designs we love to get positive feedback, and knowing the people of San Francisco stand behind us as a contender for the BEST of anything is a great incentive to continue expanding our luxury line as well as more modestly-priced upcoming lines for our beloved pets."
The Luxury Pets Dream Collection features collars, bowls, beds, blankets, apparel, pendants, collars, leashes, and Organic Treats for dogs and cats, sold both online at http://www.luxurypets.com, and in high-end department stores, finer hotels, and pet boutiques throughout the world.
# # #