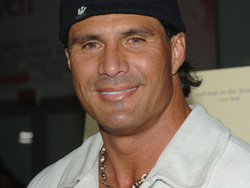 "No matter your age or level you play, my App will show you how to hit a ball more powerfully, and also show you what common mistakes you should avoid," said Canseco.
Los Angeles, CA (PRWEB) April 19, 2011
Jose Canseco, one of the most famous names for the last 25 years in baseball, today announces the launch of his 'Jose Canseco's Power Hitting' App in the Apple App Store. The instructional App focuses on the technique that helped Canseco score 462 home runs and 1,407 RBI's in a career spanning 17 years in the major leagues. The App gives instant access to Jose Canseco's tips, lessons and thoughts on the game and his own career.
"No matter your age or level you play, my App will show you how to hit a ball more powerfully, and also show you what common mistakes you should avoid," said Canseco. "I hope the App helps you enjoy your game more this year, as well as get a better hitting record! I enjoyed collaborating with the App publisher ICN, because we've compiled the secret to power hitting, as well as an inside look at my career on and off the field – in my own words".
ICN owner and publisher, Geoff Baker stated, "Canseco shows you how to hit like a Pro. Everyone will get access to amazing coaching sessions, video tips and baseball tools designed to make you a Pro hitter."
It was through so much public demand that the App was created. Almost 50 coaching and interview videos were created from the baseball legend himself. Soft Toss Drills and Live Drills: Fans will be coached by the best via video tutorials to learn how to hit the ball harder and further out the park than ever before. It would be like having Canseco right there. The iTunes app also allows the public to connect through a "Social Tools" button to connect with Canseco and receive daily updates from the man himself.
Additionally, the app will bring you inside the world of professional baseball with exclusive insight into Canseco's early years, career and some of his more controversial moments.
Recently ICN developed an app and entire program for tennis great Jimmy Connors. "Jimmy is one of tennis' most colourful ever characters and his App is quite success," stated Baker. "It was great working with Jose on his App and we believe that his fans and general fans of baseball will benefit greatly from the tutorials, while having a good time."
Canseco has had his share of controversy over the years and has learned a great deal over time about dedication, commitment and what giving back to his community means. An undisclosed amount of each sale will go to B.A.T, (Baseball Assistance Team). The primary objective of the Baseball Assistance Team is to aid those members of the "baseball family" most in need. "I want to give back to baseball and have attached B.A.T as my charity of choice because I feel more people should be aware of the organization and what they stand for" said Canseco.
Canseco wants to move on from the past and concentrate on what he does best, playing baseball. His love for the game and being an optimum athlete has not subsided over the years and now he is focused on managing and playing for Arizona's independent league the Yuma Scorpions. "Time teaches you a lot and my life is very different today than in the past, I am still very competitive and have absolutely no plans of slowing down anytime soon".
Jose Canseco's Power Hitting is available for $3.99 from the App Store on iPhone, Ipad and iPod touch or at http://www.itunes.com/appstore
About ICN
ICN (http://www.icncorporate.com) is a digital media services publisher that offers web services, IPTV & smartphone mobile Applications (Apps) to create value for consumer and entertainment brands. ICN is based out of Los Angeles, CA and London, England.
Contact:
Nadine Christine
Euphoric Media and PR
Publicity Line: 323-863-6779
http://www.euphoricmediagroup.com
Or
Geoff Baker
ICN: Los Angeles office:
M (UK): +44(0).780.168.5551
C (US): +1.310.923.4406
E: gb(at)icncorporate(dot)com
W: icncorporate.com
###