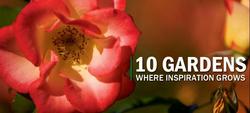 These creative, and sometimes non-traditional, gardens are sure to plant ideas in the heads of amateur gardeners and accomplished horticulturalists alike.
Franklin, TN (PRWEB) April 26, 2011
Just in time for the start of the growing season, Livability.com has selected 10 inspiring gardens across the U.S. These creative, and sometimes non-traditional, gardens are sure to plant ideas in the heads of amateur gardeners and accomplished horticulturalists alike. Gardeners, who don't know where to begin, will be motivated to get off the porch and into the dirt to bring their budding aspirations into full bloom.
University of California-Santa Cruz Arboretum, Santa Cruz, CA. Combining a campus feel with a gorgeous garden can provide the perfect atmosphere for a little inspiration. Just ask the folks over at the UCSC Arboretum, where a diverse collection represents more than 300 plant kingdoms.
Botanica, The Wichita Gardens, Wichita, KS. Located on Amidon Street' Botanica is a 9.5-acre horticulture center with 24 different themed gardens. Themes range from the popular Shakespearean Garden, where everything planted is either from the Shakespearean period in England or is mentioned in one of his plays, to the more than 500 free-flight butterflies in the Butterfly House.
Daniel Stowe Botanical Garden, Gastonia, NC. The sprawling 380 acres include manicured gardens and various garden rooms. Ten thousand species of flowers, banana trees, winterberry and the orchid conservatory help round out this gorgeous garden.
Cape Fear Botanical Garden, Fayetteville, NC. Don't be fooled by the ominous name; frightened is the last thing one will feel after strolling through here. The 79-acre garden was designed to provide city residents with a tranquil space to enjoy nature's finest.
Swan Lake Iris Gardens, Sumter, SC. The 120-acre park began as an accidental garden in 1927. A failed iris garden sprung to life the next year, creating what Southern Living magazine called "a lovely mistake." Australian Black and English Royal Mute swans were later imported in the early 1930s, and today the park has all eight swan species.
Tyler Municipal Rose Garden, Tyler, TX. This 14-acre rose garden is the largest rose garden in the U.S. More than 38,000 rose bushes exist representing 500 different varieties, ranging from tall grafted rose trees to miniature roses that are no larger than a dime.
Fort Worth Water Gardens, Fort Worth, TX. This is no ordinary garden. Traditional flowers, green paths, and towering trees are replaced with a different kind of natural wonder: water. Visitors can choose from three pools – the quiet meditation pool, the aerating pool with spray fountains or the active pool where guests can wade, making this garden perfect for anyone looking for a more modern mode of inspiration.
Cinnamon Creek Tropical Butterfly Garden, Boerne, TX. Hundreds of fluttering wings adorn the 2,000- square-foot lush tropical greenery of this enchanting butterfly habitat.
Japanese Gardens at Lake Sacajawea, Longview, WA. Those who find inspiration in the exotic will benefit from a trip to this relatively new garden, which opened in 2003. The garden sits on its own island connected to the park by an impressive Japanese-style bridge. Surrounding the garden is Lake Sacajawea Park, a 60-acre park, complete with 3.5 miles of hiking and biking trails, picnic areas, and playgrounds.
Cheyenne Botanic Gardens, Cheyenne, WY. Inspiration goes hand-and-hand with innovation here. Along with its 9 acres of landscapes and gardens, Cheyenne offers a solar conservatory that's 100 percent solar heated, making it one of the oldest and largest sites for renewable energy in the western U.S. Inside the environmentally friendly conservatory, visitors will find rows of tropical (and beautiful) plants. The Paul Smith Children's Village area demonstrates solar heating, solar power and wind power, inspiring a new generation to continue the green legacy.
For more information on these inspiring gardens and vivid images, visit Livability.com.
About Livability.com
Livability.com (http://www.livability.com) showcases America's best places to live by providing an in-depth look at some of the most livable cities in North America. It's also a valuable resource for the moving audience. Content includes original photography, compelling articles, and includes moving tips and advice.
For more information, contact:
Katharine Richardson
Richlyn Marketing
(615) 243-0619
kate(at)richlynmarketing(dot)com
# # #