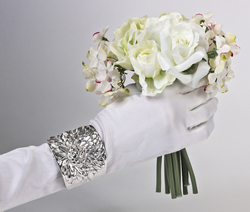 The sterling handcrafted Forever Cuff, made in America for American Estate Jewelry, is the new heirloom gift -- perfect for the graduate, the bride and Mom.
Long Island City, NY (PRWEB) April 22, 2011
American Estate Jewelry American Estate Jewelry announces a renaissance of the American heirloom tradition. The new heirloom trend especially resonates with gift shoppers for this season's truly significant occasions -- weddings, anniversaries, graduations and Mother's Day-- which focus on family, milestones and lasting love. In particular, the heirloom quality sterling cuff http://www.theforevercuff.com is this Spring's comeback kid, and its appeal transcends fashion as consumers increasingly seek value in their purchases. It's all the better if the value lasts through generations.
According to Carolyn O'Keefe, founder of American Estate Jewelry, a company which offers American handcrafted sterling jewelry inspired by the elegance of the early 1900s, "Regardless of seasonal trends, buyers should always 'think heirloom' --not fads --when buying a jewelry gift. A woman should feel lasting love for the jewelry she wears and collects." That's why the company's "Forever Cuff"http://www.theforevercuff.com is perfect for important occasions.
Fashion insiders heralded "the heirloom look" as a key trend from Spring 2011's Fashion Week. As well in jewelry, designers are taking cues from antique family treasures and from consumers who are pickier than ever about the enduring value of their purchases. Distinctive craftsmanship, classically beautiful design, proportioned metal weight and American manufacturing are hallmarks of the luxury silver jewelry consumers want.
Value sensitivity has become more acute than price sensitivity. For important occasions, the distinction of American Estate's handcrafted, American-made "forever cuff" is compelling. According to the International Council of Shopping Centers, luxury jewelry saw double-digit increases in February 2011 sales over Valentine sales of the previous year and nearly twice the sales bump of lower-end jewelry. Kiplinger's April 2011 Outlook affirms the continuation of the value mindset: "Shoppers will open their wallets wider mainly for special occasions and be willing to invest a bit more money if the product is worth it." Jim Rosenheim, owner of the elite Tiny Jewel Box in DC, concurs, "Customers are eschewing the 'okay' gift at lesser price and opting for the 'special' gift for a greater investment. That's why the American Estate cuffs are doing so well."
Affection for heirlooms inspired O'Keefe to begin the company. She had seen her mother, Sally, wear her great grandmother's sterling cuff every day for every occasion. As O'Keefe considered her two daughters and niece, she searched antique stores and the internet for beautiful turn-of-the-century sterling cuffs from America's silver-making heyday. Few substantial estate bracelets were available, and those she did find were disappointing -- less weighty, well-fitted and durable than the modern woman requires.
O'Keefe teamed up with renowned repousse' expert, Michael Galmer, based in New York, to form a new company called American Estate Jewelry. Galmer created seven iconic "forever cuffs" http://www.theforevercuff.com in different floral motifs: Magnolia, Peony, Sunflower, Daisy, Double Sunflower, Cherry Blossom and, a favorite among equestrians, the deco-inspired "Girl Afield."
In the works are more pieces inspired by Sally's jewel box: large repousse' button earrings, richly engraved pendants, elegant choker necklaces, sterling cocktail rings and even sterling shoeclips. All American Estate Jewelry is designed by Galmer, hand-created by skilled American craftspeople under Galmer's direction in his U.S.A workshop and stamped with the Galmer hallmark. http://www.americanestatejewelry.com How heirloom can you get?
###