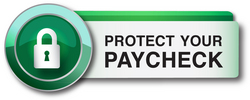 "Your paycheck is your most valuable asset, and just as you insure your other valuables, you need to insure your ability to earn an income,"
Marlton, NJ (PRWEB) April 25, 2011
Most people feel secure in the fact that they have their homes and cars insured, in case something were to happen to them. But what many don't consider is properly insuring what pays for those things—their paycheck.
"Your paycheck is your most valuable asset, and just as you insure your other valuables, you need to insure your ability to earn an income," says Martin V. Higgins, Certified Financial Planner with Family Wealth Management in Marlton, NJ. "Think of disability insurance as insurance for your paycheck. It provides an income if you're unable to work due to an illness or injury."
If disability insurance is so essential, why do the majority of Americans lack this important protection? Higgins says that some common misconceptions are to blame, and it's important to understand that these are myths not reality.
Myth 1: I'd rely on my savings until I could get back to work.
The reality is that most people overestimate what they have to cover their expenses if a disabling illness or injury kept them from earning a pay¬check. According to a LIFE Foundation survey, half of working Americans say they couldn't make it a month before financial difficulties would set in. And keep in mind that disabling illnesses or injuries often last for months or even years.
Myth 2: I don't need it—I don't work in a dangerous profession.
You actually have a three in 10 chance of suffering a disabling illness or injury during your career that would keep you out of work for three months or more, according to the consulting firm Milliman Inc. And the odds of suffering a long-term disability are high for all workers because illness—not accidents—account for 90 percent of disabilities that keep people out of work, a study by the Council for Disability Awareness finds. That means disability insurance is something every working person needs to be thinking about, says Higgins.
Myth 3: The government provides assistance when someone becomes disabled.
According to the National Safety Council, a majority of long-term disabilities—90 percent—are a result of an injury or illness that is not work-related, and therefore wouldn't qualify for state-based Workers' Compensation programs. And if you were hoping for Social Security disabil¬ity benefits, know that about 65 percent of those who apply are initially denied, and those who are approved receive an average monthly benefit of just $1,065, which would leave you with an income barely above the poverty line.
Myth 4: I have disability coverage at work.
Disability insurance through work is a great benefit, says Martin V. Higgins but you need to find out exactly what coverage you have. Keep in mind that the Social Security Administration shows that 69 percent of workers in the private sector don't have long-term disability insurance. And short-term or partial coverage wouldn't be enough if you were unable to work for an extended period of time.
To get a good snapshot of what your disability insurance needs are, use the free online Disability Insurance Needs Calculator that the nonprofit LIFE Foundation offers at http://www.protectyourpaycheck.org. Then talk with an insurance professional in your community, who can explain the various features of disability insurance policies and help you strike the appropriate balance between the benefits you desire and the money you have to spend.
About Martin V. Higgins/ Family Wealth Management
Martin V. Higgins is founder of Family Wealth Management LLC, a fee-based financial planning and wealth management firm. He specializes in providing tax-efficient strategies for preserving and growing family wealth.
Marty is a Certified Financial Planner (CFP)™ practitioner and past President of both the South Jersey Chapter of the Society of Financial Service Professionals (SFSP) and the Estate and Financial Planning Council of Southern New Jersey (EFPCSJ). He is a member of the FPA (Financial Planning Association), a Chartered Life Underwriter (CLU) and an Accredited Estate Planner (AEP). Marty is a Paladin Registry Five Star Advisor and in 2002 was inducted into Research Magazine's Advisor Hall of Fame, recognizing excellence in the profession.
Marty is co-author of three books, Dream, Inc., which features 32 Philadelphia area entrepreneurs and how they built successful companies from scratch. He has also contributed to Dan Kennedy's book The Ultimate Success Secret and in 2009 he published Promises Kept, 12 true short stories of how wise financial planning with a trusted advisor prior to an unforeseen tragedy made a significant impact in the lives of 12 families. He has been a featured speaker throughout the country and overseas for many industries and company training programs. Marty also regularly contributes to various industry magazines and local media.
Marty has lived in the South Jersey region all his life. He, his wife Terri, and their three children share the love of travel, local culture, and sports activities, including golf, baseball, lacrosse and hockey.
###