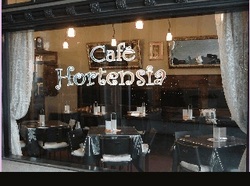 In addition to the crowds we serve during the day we wanted to offer our patrons a fun, yet relaxed setting in the evening and Author's Share was the perfect opportunity...
Atlanta, GA (PRWEB) April 26, 2011
Café Hortensia, now open in downtown Atlanta near Centennial Park, is a place to grab a great cup of coffee, eat some of Atlanta's best shrimp and grits, and enjoy live book readings from national and local authors. Beginning in May 2011 and continuing throughout the spring, Café Hortensia's newest evening café series titled "Author's Share' will include several authors from Atlanta as well as national novelists who will deliver live excerpts from their books, do book signings and personally meet and greet their fans.
Café Hortensia, located in the lower level of the Healey Building at 57 Forsyth Street, is the brainchild of owner Wanda Knight. The new café offers southern cuisine favorites for breakfast and lunch, which attracts downtown's heavy pedestrian traffic. "In addition to the crowds we serve during the day we wanted to offer our patrons a fun, yet relaxed setting in the evening and Author's Share was the perfect opportunity," said Knight.
Author Share is hosted by celebrated Atlanta-based novelist Lonz Cook, who recently debuted his third paperback "When Love Evolves," published by Sterling and Ross Cambridge House Publishers. He also authored reader favorites "A Choice to Yield," in 2009 and "Good Guys Finish Last," in 2006.
Authors Share May events at Café Hortensia are as follows:
MONDAY, MAY 2, 2011, 7 P.M. - 9 P.M.
Author Claudia Moss
"If You Love Me, Come" resonates with lyrical language and reservoirs of emotion. Claudia Moss, a storyteller from a long line of Southern storytellers, plants her post in a novel about the healing power of love and redemption, about betrayal and longing, about family and its many forms. Her novel's character Frenonia Roberts, leads an idyllic life. If you ask her baby sister Rhonda, her best friend Sharmayne and anyone else looking in on her glamorous, Buppie existence in Atlanta—where she high-steps it through her days as a young entrepreneur and owner of TheWeAreFamily Bookstore and Coffeeshop—she is the apple of her mother's eye, a pacesetter spearheading the city's National Black Arts Festival, hostess of the esteemed Isis Book Club and the flame in J.T.'s heart until everything in her life takes a different turn.
Author Harold Michael Harvey
Harvey's new thought-provoking novel, "Paper Puzzle," challenges the assumption of justice flowing out of the courthouse. This Southern mystery centers on two newspaper editors and a series of murders spanning forty years. Painting a vivid verbal picture of the post-Civil Rights Era South, Harvey's historical description of the area and his knowledge of law provide a compelling look at social mores in our not-so-distant past, as well an often disturbing glimpse of our judicial system.
MAY 16, 2011, 7 P.M. – 9 P.M.
Author Barbra Porter Coleman
"A Ram in The Bush" is an electrifying drama about jealousy and abuse in a relationship. In Coleman's new novel, two stranger's paths ironically cross and a medallion passed down through three generations helps save innocent lives. The author's work will keep you eagerly turning pages as lies, intrigue, and infidelity unfurl. The first three months of marriage were great. Then jealousy reared its ugly green head. Shay's obsessive jealousy leads her to purchase a GPS car tracking device to keep track of the whereabouts of her newlywed husband. Her obsessive jealousy and outrageous accusations rapidly begin to destroy what had been shaping up to be a wonderful marriage. Insecurity can lead to jealousy - jealousy can lead to obsession - obsession can lead to abuse - abuse can lead to death.
Author KR Bankston
In Bankston's newest book "Smoke & Mirrors," (the third installment of the Dezi Gianni series) Gianni has spent twenty plus years rebuilding his empire, becoming even more powerful than he'd been before. Though the life of luxury and privilege that people only dream of never faltered, Dezi was not fulfilled. There was still that one loose end, and Dezi Gianni was not the kind of man to leave things unresolved. Determined to reclaim the essence of that which he loves more than his own life, he sets out on a dangerous journey back to the very soil he was once legally excommunicated from. The threat of arrest and prison looming over his head is not a deterrent. Dezi has no plans of leaving empty handed this time however, and heaven help anyone or anything, that gets in his way. When Dezi Gianni returns to his expansive mansion estate carved in the hills of the picturesque township in Bermuda, his life will begin anew. The once loose end will be secured and Dezi Devastator Gianni's world will once again be absolute.
###