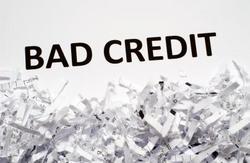 Bad credit loans are so popular right now because the average consumer is still feeling the full adverse impact of tight credit, high unemployment, and lackluster real estate markets
London, UK (PRWEB) April 29, 2011
As the economy continues to plague households across the UK, more people are taking out bad credit loans than ever before confirms Andy Hygate from http://www.loansbadcredit.org.uk
"Bad credit loans are so popular right now because the average consumer is still feeling the full adverse impact of tight credit, high unemployment, and lackluster real estate markets".
Bad credit loans are bespoke products specifically designed for people who have poor credit and low credit scores. That makes them especially useful for consumers who need extra cash or flexible loan products but have not been successful applying for mainstream loans.
Experts anticipate that the rest of 2011 will be extremely challenging too, thanks to a preponderance of negative economic trends and statistics recently reported by news media outlets such as the Telegraph and the Guardian.
Here are just a few examples of why the recession is expected to plague the UK consumers for at least another year:

Britain's biggest mortgage lender, Halifax, recently reported that the average price of a home will fall again in 2011. That harsh news came on the heels of another revelation from Halifax that during the previous one-year period the typical UK home lost approximately £4,000 in market value.
As people see their real estate assets devalued, they also find that it is harder to budget those bigger ticket purchases. Automotive sales volume, for instance, is nearly eight percent below last year's levels - according to the Society of Motor Manufacturers.
At the same time the restricted availability of mortgages continues to put a strain on would-be buyers, especially the vast majority of consumers who have less than perfect credit. Approvals are at their lowest level since 2009 as banks tighten lending criteria, raise rates, and scrutinize credit history with much stiffer requirements for documentation of income, assets, and a low ratio of debt.
Those who do pass muster and manage to get a loan can expect to pay more, and economists anticipate that interest rates in the UK will rise even more this year due to upward momentum caused by both domestic and global economic pressures.
But even a relatively small jump in interest rates of just 2.25 percent rise would be enough to force the monthly repayments on a typical £150,000 mortgage to spike nearly £200.
That's why the number of renters has grown dramatically over the past year. As more and more people find it increasingly hard to fund large cash down payments or get affordable financing, there are almost twice as many Brits either renting or leasing a home than there were a year ago.
Meanwhile those treacherous credit card interest rates are hovering at 13-year highs, averaging around 19 percent - the highest average rates since the 1990s.
Post Office Consumer Credit Report also found that close to half of all people who carry credit cards use them not so much for luxury expenditures and whimsical purchases but for such basic necessities as groceries and petrol.
Loans for bad credit have emerged as a popular form of borrowing, and in coming months they will continue to provide fast, easy access to money for those who are unable to secure loans elsewhere. The loan process is streamlined and simple. There is little paperwork, and the loans are usually approved in just a fraction of the time it takes to process a traditional bank loan.
###