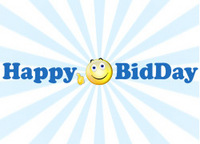 HappyBidDay.com is allowing first-time bidders to save 20% off on their first bid package and loyal shoppers to save up to 90% off retail prices on the hottest items!
West Palm Beach, FL (PRWEB) April 29, 2011
HappyBidDay.com offers you the ultimate rewards program -- Sign up today, and receive a 20% discount on the purchase of your first bid package and rack up free bids that apply to happy auctions.
HappyBidDay.com is top-rated and the fastest growing penny auction site that offers a thrilling spin on online auctions. There's never a reserve on products, and the website offers super fast shipping where online tracking and confirmed delivery is guaranteed!
Savvy shoppers at HappyBidDay.com save up to 90% off the retail price of electronics, gift cards, appliances, video games, toys and much more, in a fun, safe and secure online environment.
Registration is free, quick and easy -- it takes less than 60 seconds to create your online account and start bidding on your favorite products listed.
HappyBidDay.com offers bidders an exclusive 20% discount on bid packages at the time of registration. These packages range from $48 to $130. With this one-time special, the average bid only costs about 56 cents, and each bid pack comes with additional free bids to apply to happy auctions.
All new users are automatically enrolled in an exclusive rewards program with hundreds of free bid opportunities. The Raining Free Bids Special has been extended until May 31st where new users automatically get 50 free bids across the board -- when they register, log in daily and invite friends. There's no better time to try out HappyBidDay.com!
HappyBidDay.com also offers its loyal customers the opportunity for effortless bidding with the BidPal program. This easy-to-use, effective tool allows you to set your own parameters on auctions and will automatically bid for you when your attention is on another auction or you cannot follow a specific auction. Never miss out on an auction again!
You'll also find bidding tips, auction updates and additional specials on the HappyBidDay Facebook page.
These amazing rewards are only available for a limited time, so visit happybidday.com today to redeem these unmatchable offers and see what all the hype is about!
Never Pay Retail Again!
# # #