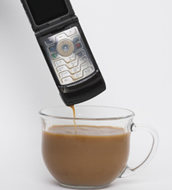 CellularDR.com has the highest cell phone water damage recovery rate in the industry.
Glendale, CA (Vocus/PRWEB) January 06, 2011
In addition to the large selection of cellphone repair services offered by CellularDR.com, water damage repair service is now available for those who need it. With the combination of increasing cell phone costs due to advancing technology and the current poor economy, many cell phone users are choosing to repair their liquid damaged cell phone instead of purchasing a new one.
Water damage can happen in many ways and is one of the most commonly seen problems when people seek cell phone repair. Spilled drinks, getting run through the washing machine, dropped in a puddle and more can all contribute to a cell phone getting damaged.
CellularDR.com has years of experience in repairing water damaged cell phones and ranks on top for success in restoring a cellphone back to good working condition after it's been exposed to liquid. When a cell phone comes in contact with any liquid such as water, there are many things that can go wrong. Most of the time the things people do on a daily basis put cell phones at risk and they don't even know it. Cellular phones can succumb to water damage by keeping them in the bathroom while taking a hot steamy shower, texting while in the Jacuzzi, extreme sweating while working out or running on the treadmill with the cell phone is in your pocket and more.
Unfortunately, phone owners think the phone is alright after an incident. They wipe the outside of the phone, plug it in to charge and never think about it again, until it acts up! CellularDR.com recommends sending the phone in immediately after contact with any water or liquid has occurred, for a full internal cleaning. By having it cleaned, the circuit boards will not burn out and the minerals and particles in the liquid will not have a chance to corrode and eat away at the cell phone parts.
When it comes to cell phone water damage, time is of the essence. Waiting too long will increase the chances of irreparable damage; especially if the water makes its way into the main circuitry where it can cause damage that cannot be repaired.
CellularDR.com is a name people have trusted for years. The cell phone repair process is quick, affordable and your cellphone can be on its way to be repaired in 3 easy steps. Please visit CellularDR.com for further details on how to get started repairing your water damaged phone.
About CellularDR:
CellularDR.com is the trusted leader in providing cell phone repair, software upgrade, cellphone contact data transfer, cell phone repair parts, accessories and other cellular phone services both online at http://www.CellularDR.com and at their offices centrally located in Glendale, California serving the surrounding cities: Los Angeles, Pasadena, Burbank, La Canada, Studio City, Sherman Oaks, Santa Monica, Hollywood and North Hollywood. Services are provided on a variety of cellular phone makes and models including major brands such as Apple iPhone, Rim Blackberry, HTC, Kyocera, LG, Motorola, Nokia, Palm, Pantech, Samsung, Sidekick and Sony Ericsson cell phones.
Contact:
CellularDR.com National Cell Phone Repair Hotline
Toll Free (877) 288-4488
Facebook
Twitter
###