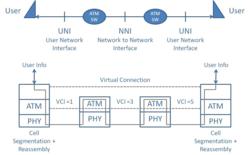 The software permits BER testing over ATM switching and transmission systems using our various T1 E1 platforms.
Gaithersburg, Maryland, USA (Vocus/PRWEB) January 21, 2011
GL Communications Inc. announced today the release of its ATM BERT Software for T1 E1 -- this software permits BER testing over ATM switching and transmission systems using our various T1 E1 platforms. Addressing a press conference, Mr. Jagdish Vadalia, Senior Manager at GL said, "Asynchronous Transfer Mode, or ATM is a form of transmission and switching that is commonly used on DSL (Digital Subscriber Lines), fiber optic lines, and 3G mobile infrastructure. Transmission systems could be any digital facility including: T1, E1, DSL, T3, E3, OC3, STM1, OC12, STM4, and other higher rates. ATM is based on segmenting all information regardless of type (voice, data, picture, or video) into "cells" of length 48 bytes plus 5 overhead bytes (53 total). At the receiving end the reassembly of these cells puts the information back to its original state. To handle all information types many higher layer protocols have been developed called ATM Adaptation Layers or AALs".
He added, "GL has various tools for the analysis and test of ATM. For example: ATM Analyzer, Inverse Multiplexing over ATM (IMA) Analyzer, T3 E3 ATM Analyzer, OC3 STM1 OC12 STM4 ATM Analyzer and many others. A recently added application is ATM BERT for T1 E1. A typical ATM BERT application is the verification of end to end integrity in an ATM virtual connection shown aside:
Mr. Vadalia explained, "In the above figure, there is an implicit end to end connection between the endpoints. ATM is inherently connection oriented, therefore any traffic that relies on connections is easily accommodated (adapted), i.e. voice, modem, and fax. Traffic that is inherently connectionless must be adapted, thus the necessity of higher ATM Adaptation Layers, or AAL. To test an end to end ATM derived virtual circuit, one can use GL's ATM T1 E1 BERT software with any of GL's T1 E1 platforms".
He continued, "The ATM BERT application transmits a BERT pattern using the simplest ATM Adaptation Layer, i.e. AAL0. The BERT pattern is inserted in its entirety into the 48 byte payload of the cell. It allows an ATM virtual circuit to be tested by sourcing test traffic and verifying at the receive end. Other features are: Bit Error Insertion, Looping back incoming traffic (using T1 E1 Loopback), and configuring ATM headers for UNI & NNI interfaces. The application is capable of generating various Pseudo Random Bit Sequence (PRBS) patterns, all ones, all zeroes, alternate ones & zeroes, 1:1, 1:7, and user-defined bit patterns. In addition, single bit error insertion, auto error insert rate from 10-2 to 10-9, invert & non-invert selections, and scrambling options (according to ITU-T G.804) are provided".
Important features:
•User-defined header configuration supported
•User-defined traffic rate to the accuracy of 1% of total bandwidth
•Supports different PRBS patterns, All one's, All zero's, alternate 1's and 0's, 1:1, 1:7, and User-defined pattern. User defined pattern length can be 2 to 32 bits in length
•Supports inverting payload data, and scrambling. Scrambling is according to ITU-T G.804
•Supports single bit error insertion, and error rate insertion.
•Provides detailed statistics such as Rx/Tx cell count, total cell count, rejected cell count, pass cell count, idle cell count, cell rate, and HEC error count
•Provides throughput details, error, and alarm LEDs for easy analysis
•Tx and Rx settings for multiple ports can be independently controlled or coupled
•Capable to save and load the configuration settings
Brief Description of T1 E1 ATM BERT Features:
ATM Header Configuration:
The GUI provides configuration of ATM header fields such as GFC (Generic Flow Control), VPI (Virtual Path Identifier), VCI (Virtual Channel Identifier), PT (Payload Type), and CLP (Cell Loss Priority). ATM header fields for UNI will have GFC (Generic Flow Control) enabled, while for NNI interface GFC field is disabled.
Selecting BERT Patterns (Payload)
Payload at the Tx configuration allows user to select specific Bit Error Rate test pattern for transmission. T1E1 ATM BERT support various BERT patterns; QRSS, 29-1, 211-1, 215-1, 220-1, 223-1, all ones, all zeros, 1:1, 1:7, alternate 1s and 0s, and user-defined pattern from 3 to 32 bits length. While at Rx configuration these patterns are used to verify the incoming BERT pattern. Pattern Sync is achieved only if BERT pattern matches configuration options, configurable header lengths and header information.
Traffic Rate
The Traffic Rate option supports Bandwidth Rate defined as:
•Percent with range starting from 1 to 100% of current bandwidth
•Cell Ratio, where users can set the amount of ATM traffic cells and idle cells
Impairments
ATM BERT allows users to insert single bit error or a random error rate from 10-2 to 10-9 into the outgoing (TX) BERT cell stream.
Results
BERT Results are displayed in 2 ways – BERT Results with LEDs and Statistics. LEDs give users a quick way of viewing the test status. The three Status LEDs reflect current as well as history status. These LEDs indicate the Traffic status (whether traffic is being received or not), Pat Sync status (In Sync or Sync Loss) and Bit Error Status (whether bit errors are present).
About GL Communications Inc.,
Founded in 1986, GL Communications Inc. is a leading supplier of test, monitoring, and analysis equipment for TDM, Wireless, IP and VoIP networks. Unlike conventional test equipment, GL's test platforms provide visualization, capture, storage, and convenient features like portability, remotability, and scripting.
GL's TDM Analysis & Emulation line of products includes T1, E1, T3, E3, OC-3, OC-12, STM-1, STM-4, analog four-wire, and analog two-wire interface cards, external portable pods, and complete system solutions. Capabilities include voiceband traffic analysis and emulation across all traffic types (voice, digits, tones, fax, modem), all protocols (ISDN, SS7, GR-303, Frame Relay, HDLC, V5.X, ATM, GSM, GPRS, LTE, etc.), and with capacities up to thousands of channels. Our newest products provide astonishing capacity and capture capability up to and including gigabit speeds.
GL's VoIP and IP products generate / analyze thousands of calls and traffic simultaneously with traffic types such as frames, packets, voice files, digits, video, tones, noise, and fax. Almost all codecs are supported including G.711, G.729, AMR, EVRC-A,B,C, GSM, iSAC, and many more. Additional features include visual analysis, real-time listening, and recording. The product line also includes Ethernet / IP Testing capability that simulates and checks frame transport and throughput parameters of Ethernet and IP networks, including delay, errors and other impairments.
GL's Voice Quality Testing (VQT) product line complements all of GL's products. Using ITU-standard algorithms (PAMS, PSQM, and PESQ), GL's VQT provides a widely accepted solution for assessing voice quality in the telecom industry. Voice Quality Testing across multiple networks (T1, E1, T3, E3, OC-3, OC-12, VoIP,Wireless, and Landline) are all available.
GL's Wireless Products perform protocol analysis and voice quality assessment on GSM, CDMA, UMTS, and LTE networks. Connections can be made to any wireless phone with automated call control, GPS mapping and real-time signal measurements.
GL's Echo Canceller testing solutions provide the broadest range of simulation and analysis, including line and acoustic echo.GL's compliance testing per G.168. G.167 and P.340 across TDM, IP, VoIP and Wireless networks is widely accepted in the industry.
GL's wireless VQT solutions help assessing impairments to voice quality such as poor mobile phone quality, voice compression and decompression algorithms, delay, loss and gain in speech levels, noise, acoustic and landline echo, and other distortions are easily assessed and accurately measured.
GL's Handheld data testers can test a wide variety of communications facilities and equipment including T1, fractional T1, E1, fractional E1, T3 and E3 modems, multiplexers, CSU, DSUs, T1 CSUs, DTUs, NTUs and TIUs and more. The testers provide convenience, economy, and portability for almost any interface, including RS232, RS-422, RS-530, X.21, T1, E1, T3, E3, and many others.
GL's Network Surveillance and Monitoring products include Probes for TDM, IP, VoIP, ATM, and Wireless networks. An open standards based approach provides a scalable, feature rich, real-time access to network characteristics. Centralized or distributed access, efficient transport and database loading allow compatibility with 3rd party and standards based monitoring systems.
For more information about GL's complete line of products,
Contact:
Shelley Sharma
Phone:301-670-4784 ext. 114
E-mail: info(at)gl(dot)com
# # #