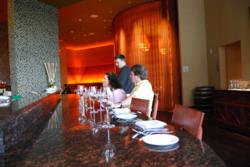 All of a sudden the buzz about Restaurant Week Grand Rapids was everywhere – in the news, on social media, and on the street.
Grand Rapids, Michigan (Vocus/PRWEB) January 10, 2011
Experience Grand Rapids a key underwriter and creator of Restaurant Week Grand Rapids, is pleased to announce that the inaugural event held from November 4 - 13, 2010 surpassed all expectations. According to Doug Small, President of Experience Grand Rapids, "We anticipated 40 restaurants would participate in the inaugural event and had 57. We anticipated an impact of $500,000 in sales and ended up with over $1,000,000 in sales. In our first year we couldn't be happier with the outcome. The response from the community and the restaurants has been outstanding."
According to Small, "Even before Restaurant Week kicked off I was hearing reports of sold out bookings at some of the fine dining establishments. All of a sudden the buzz about Restaurant Week Grand Rapids was everywhere – in the news, on social media, and on the street."
Of approximately 30,000 restaurant week bookings tracked by participating restaurants during the event, 19,128 meals were served from their Restaurant Week special menus while an additional 10,000 meals were ordered off of regular menus. With an average dinner spend of $35 - $42 per person (including drinks and the $20.10 dinner combined) the total dollars attributed to Restaurant Week dining is reported to be approximately $1.2 million.
Five percent (3) of the restaurants served over 1000 meals, while 16% (9) served between 700 – 900 Restaurant Week meals; 11% (6) served between 300 – 500 Restaurant Week meals; 34% (19) served between 100 – 300 meals; and 30% (17) served fewer than 100 meals.
Many of the restaurant owners and managers stated that Restaurant Week Grand Rapids brought them "new customers". Kevin Vos, General Manager of Blue Water Grill stated, "We've worked on ways to bring in new customers with several different promotions in the past. Restaurant Week was the event that really brought in new business for us." Vos added that on their first evening of Restaurant Week, sales were up 25%. Garry Boyd, General Manager at Stella's Lounge and The Viceroy also attributed Restaurant Week for bring in a 25% rise in business at his restaurants. Sysco Grand Rapids' Regional Director of Sales Eric Gruener reported that his customers were reporting very strong business during Restaurant Week. "As a sponsor of the event in its first year, we think that it hit a home run based on our customer reports."
Each restaurant will donate $1 from each 3-course Restaurant Week Grand Rapids meal purchased to create a student scholarship fund at Secchia Institute for Culinary Education of Grand Rapids Community College.
The idea for Restaurant Week began in larger cities such as New York, Los Angeles and Miami. Greater Grand Rapids area has nearly 1 million residents.
Doug Small, President of Experience Grand Rapids, was involved with Denver's Restaurant Week during his time as Executive Vice President of Visit Denver, their Convention and Visitors Bureau. Small wanted to highlight great restaurants in this city, which also has one of the top 20 culinary schools in the nation. According to Small, "The Secchia Institute for Culinary Education produces some great talent that stays in the community, adding to our culinary image. Combine that with the fact that Grand Rapids is just 30 minutes from the Lake Michigan shore and includes a cosmopolitan environment within a "not too big, not too small" geographic area. It's a compelling mix."
Many younger residents have chosen Grand Rapids over bigger cities to the east and south – Detroit and Chicago – due to its unique quality of life offering, including an innovative art culture and numerous culinary opportunities.
Many of the sponsors of Restaurant Week Grand Rapids 2010 jumped on board due to their direct involvement with many of the participating restaurants in the inaugural event. Beverage sponsors included The Hess Collection (of Wines), Grey Goose, and Founders Brewing Company a Grand Rapids based, nationally known beer brewery, and Sysco Grand Rapids and Valley City Linen, who serve the Greater Grand Rapids restaurant industry. Other sponsors included The Grand Rapids Press, Townsquare Media, M-Live, Grand Rapids Downtown Alliance, Think2wice, and GreatFoodandTravel.com. Major Underwriters for the event were the Grand Rapids Downtown Development Authority and Experience Grand Rapids(Convention and Visitors Bureau).
###