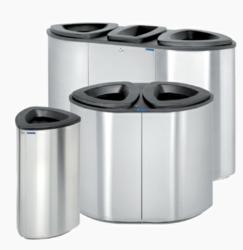 Our Bermuda Series is an elegant addition to our product line...
Barrie, ON (Vocus/PRWEB) January 05, 2011
After much anticipation, Busch Systems has added a new series to their product line. Considered the "high end" of recycling containers, the Bermuda Series from Fin Bin offers Busch Systems clients an option outside of the "big blue".
The sleek, stainless steel design of the Bermuda Series, blends easily into any environment and adds a touch of elegance to your single stream recycling initiatives. The Bermuda Series is perfect for executive office buildings, convention centres, hotels, medical offices, airports, hospital facilities and malls.
Busch Systems and Fin Bin had a vision; the vision was to develop recycling bins and containers that could blend into any environment. A container that has class and elegance while at the same time encourages a high quality sort. The Bermuda Series is offered in double, triple and quad configurations with appropriate openings and labels to create a time saving, cost effective sort.
Another addition to the Bermuda Series is the Single Bermuda 80 Container. This is perfect for smaller, tighter spaces and is offered in stainless steel and painted finishes. For malls, schools and airports the Fin Bin Bermuda Series can be customized to allow for promotional signages. Your logo, advertisement, recycling facts and any other message you would like to highlight can be conveniently placed along the sides of the bin offering visibility and a way for your students, staff, customers, patients and passengers to recycle.
If the Bermuda Series isn't exactly what you are looking for, Busch Systems offers an assortment of recycling, waste and compost containers. Often, their innovative containers and bins can be customized to suit your personal preferences and needs. When questioned about this exciting opportunity, Busch Systems President and founder Craig Busch states: "Our Bermuda Series is an elegant addition to our product line. The designs are perfect and each container was well thought out in its aesthetics and purpose. Our new Bermuda Series takes our centralized recycling and waste line to a whole new level. Finally our customers are no longer limited to big, plastic and blue; we've brought a bin into the Busch Family that is sure to make waves in the architectural markets."
For more information about the Busch Systems Bermuda Series and other products new to this line please visit their website at http://www.buschsystems.com.
###