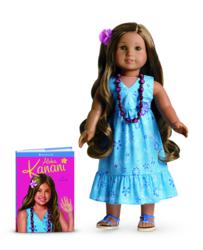 Every plush monk seal sold helps National Wildlife Federation protect endangered species
Reston, VA (Vocus/PRWEB) January 03, 2011
This January, kicking off American Girl's 25th birthday celebration, is the debut of Kanani Akina, the 2011 Girl of the Year, whose story takes place in the lush, tropical paradise of Hawai'i. To share in the Hawaiian spirit of helping others, American Girl is partnering with the National Wildlife Federation® (NWF) to help raise awareness of endangered animals like the Hawaiian monk seal featured in Kanani's stories.
With the purchase of every Kanani plush monk seal sold in 2011, American Girl is donating $1 (up to a maximum of $100,000) to NWF's wildlife education programs. More about the partnership and how people can help can be found at http://www.nwf.org/americangirl.
A warm and cheerful girl, Kanani loves her town's beautiful beaches, tropical sunsets, and fun lua'us, but, most of all, she and her family love sharing in the Aloha Spirit—a desire to welcome and care for others with an open heart. Through Kanani, girls will discover that everyone has something to share that can make life better for someone else.
Kanani is available for one year and will launch with two books that tell her story, a beautiful 18-inch Kanani doll (featuring long, wavy medium-brown hair and hazel eyes), and an array of outfits and accessories such as a paddleboard set, a plush Hawaiian monk seal, and a shave ice stand!
Written by acclaimed author Lisa Yee, the 2011 Girl of the Year books—Aloha, Kanani and Good Job, Kanani—introduce readers to Kanani and her small seaside town on the island of Kaua'i. Kanani loves working in her family's shave ice and sweet treats store, while sharing the wonders of Hawai'i with visitors.
Whether it's making her cousin from New York feel welcome on the island, rescuing a baby Hawaiian monk seal, or helping older people in her community, Kanani learns that by sharing herself and her home in the true aloha spirit, she has the ability to make life better for others. The back of each Kanani book features letters from real girls who, like Kanani, discovered that helping others through small gifts and services were well worth the joy they brought to others.
To further engage girls in Kanani's world and her story's inspirational message, American Girl is introducing the following products and activities in 2011:
Lend a Hand: Girl-sized ways of helping others: A nonfiction companion advice book to the Kanani fiction series, Lend A Hand gives girls ideas and tips (both big and small) for making a difference at home, among their friends, in their community, and on the planet.
Kanani Retail Events: Starting on January 1, girls can take part in Kanani-inspired events at American Girl retail stores nationwide, including hula dance demonstrations, free Hawaiian craft activities, and delicious Kanani-themed meals.
Kanani and Me E-cards: From January 1 through April 15, 2011, girls can create and share their own Kanani-themed postcards at americangirl.com/girloftheyear, and be automatically entered (with parent's permission) into a drawing to win a Kanani doll and book.
Starting on January 1, 2011, the Kanani doll, books, and accessories will be available for one year or while supplies last through American Girl's catalogue, at americangirl.com, and at all American Girl retail locations. To request a free American Girl catalogue, call 1-800-845-0005.
About American Girl
American Girl Brands, LLC, is a wholly owned subsidiary of Mattel, Inc., the world's leading toy company. Since American Girl's inception in 1986, the company has devoted its entire business to celebrating the potential of girls ages 3 to 12. American Girl encourages girls to dream, to grow, to aspire, to create, and to imagine through a wide range of engaging and insightful books, age-appropriate and educational products, and unforgettable experiences. In meeting its mission with a vigilant eye toward quality and service, American Girl has earned the loyal following of millions of girls and the praise and trust of parents and educators. To learn more about American Girl or to request a free catalogue, call 1-800-845-0005 or visit http://www.americangirl.com.
About National Wildlife Federation
National Wildlife Federation is the nation's largest conservation organization, publisher of award-winning children's magazines Ranger Rick®, Your Big Backyard®, and Wild Animal Baby®. National Wildlife Federation inspires more than four million members and supporters to protect wildlife for our children's future. For more information, visit http://www.nwf.org.
###