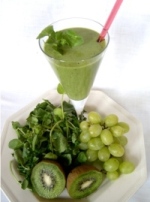 "By modifying some choices and making some seriously simple changes, I was able to get control of my weight after 20 years and to increase my energy level. I achieved what I had despaired was beyond reach!"
Washington, D.C. (Vocus/PRWEB) January 05, 2011
National Integrated Health Associates, NIHA, announced today it has partnered with The Raw Food Institute to sponsor a week-long Raw Food Immersion and Detoxification Program on January 23-29, 2011. The state-of-the-art nutrition program is the first of its kind in the Washington, D.C. area. Raw foods are full of nutrients and enzymes critical to health. The Raw Food Institute at NIHA offers an advanced nutrition and detoxification seminar that provides unparalleled health information and "how-to" demonstrations to guarantee success with a raw food lifestyle. The goal is for clients to gain confidence and master a Raw Food lifestyle while helping detoxify and heal the body.
The Raw Food Institute at NIHA will teach everything needed to know for prevention techniques, to assist those in a healing crisis, and take health to a higher level. This life changing week long program consists of daily health and nutrition seminars along with a raw foods detoxification process. Raw foods are known for their extreme cleansing and healing properties, making the program excellent for those with disease or those who need to jump-start their health.
Why Raw Food?
Raw foods are full of nutrients and enzymes critical to health. Cooking food destroys over 30-70% of the nutrients in food and many of the enzymes. Raw foods have enzymes that help with digestion, fight infection, create new cells and flush out harmful toxins. They help the body reach an alkaline state, where healing and detoxification occurs. Read more on why raw food is important from The Raw Food Institute.
Participants in the 7 day program will learn to master The Raw Food Diet with a series of seminars and daily hands-on food preparation. Seminars include:

Food as medicine- deep cellular healing
Green juicing- For a proper alkaline state
Green smoothies- Keeping the fiber and nutrients together
Sprouting- Learn how to grow your own
Wheat Grass- One of natures finest tonics
Raw Entrees- With living and live foods
As part of the detoxification process participants will learn the specific tools needed to thrive with a raw food lifestyle including home sprouting, cultured vegetables, environmental detoxification, and more.
In addition to the Nutrition portion of the The Raw Food Institute, physicians and practitioners from National Integrated Health Associates will conduct daily seminars on integrative medical approaches to disease, healing therapies, advanced detoxification methods, prevention and home self care.
Participants can choose additional detoxification services at the NIHA center such as infrared sauna, footbath, colon hydrotherapy and massage.
Lisa Wilson, CHC, Founder and Director of The Raw Food Institute has been working with clients for 5 years on an individual basis and has seen remarkable results. One client, C.C., used raw foods to help with her battle against cancer, "In February I began working with Lisa Wilson, [Founder of The Raw Food Institute]. I completely overhauled my life (and my husband's) and embarked on a raw vegan diet. Although my situation is sometimes a challenge, I could not be happier with my decision. My right breast has 2 tumors. The first was very large—the size of a fist; the second was the size of a thumb. Today the larger tumor is a size of a quarter, and the smaller has shrunk and is diminishing. By the way, I have chosen not to do any conventional therapies, just holistic and raw foods. I have lost 40 pounds and I feel great. I have my youthful body back!"
Of course, we are not suggesting that Raw Foods are the answer to cancer. And we aren't recommending that patients avoid conventional therapies that are important to their health. But we are excited to have this Raw Food program available to support significant and healthy lifestyle changes for our patients.
Raw Foods are also known for their weight loss effects, and Jim, a recent participant celebrates, "By modifying some choices and making some seriously simple changes, I was able to get control of my weight after 20 years and to increase my energy level. I achieved what I had despaired was beyond reach!"
Lisa Wilson says, "I'm thrilled that a medicinal raw foods program is finally coming to the Northeast. The Raw Food Institute offers an all-inclusive program teaching basic and advanced skills for raw food and detoxification success. This program will help people reach optimal health and assist their bodies on the path to healing. This program is evidence of hope for our country's health and nutrition and I couldn't be more excited!"
The Raw Food Institute at NIHA program will kick off on January 23, 2011 and run until January 29, 2011. Future Immersion programs will be held April 3-9, 2011, July, and October. Call 202-643-HEAL for more information.
About National Integrated Health Associates
National Integrated Health Associates, NIHA, is a leading integrative medical and dental center. Integrative medical doctors, biological dentists, naturopaths and health practitioners blend traditional western medicine and complementary and alternative medicine therapies in order to maximize the healing potential of the patient. The integrative medicine model treats the whole person (body, mind, and spirit) and considers factors such as nutrition, lifestyle, dental issues and stress to be important in the management of overall health.
Located in Washington, D.C., NIHA was founded in 1995 as one of the first integrative medical and dental centers of its kind and serves patients in the Washington, D.C., Maryland and Virginia metropolitan area and throughout the East Coast. NIHA is located directly across the street from the Red Line of the Friendship Heights Metro station, and has convenient underground parking. More information can be found on http://www.nihadc.com.
###