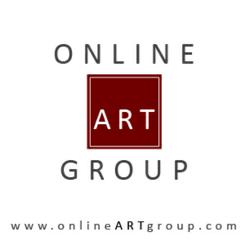 "Our mission is to offer a worldwide market place for fine art while taking the uncertainty out of the transaction process.
Atlanta, Georgia (Vocus/PRWEB) January 05, 2011
The world's premier fine art broker, OnlineARTGroup.com will launch Wednesday, January 5, 2011. This revolutionary website for buying and selling fine art features a safe and secure way to buy, trade, and sell quality works of art. Unlike other brokerage websites, OnlineARTGroup.com is dedicated to listing only premier authentic works of art. Listing artwork for sale is free with OnlineARTGroup.com. By carefully filtering through the over-hyped artists and mass-market artworks that permeate other websites, OnlineARTGroup.com stands above the brokerage site with no commission fees or buyer premiums and lower rates to the seller. With over 60 years of art, financial and Internet expertise, OnlineARTGroup.com manages all transactions with a professionalism only achieved in the highest caliber of world-renowned art galleries.
OnlineARTGroup.com provides detailed information and guidance on how to sell and buy art through their website. Their goal is to inform the collector and make the process as simple and discreet as possible. Confidential login and messaging between seller and buyer via OnlineARTGroup.com allows a secure and efficient transaction.
"Our mission is to offer a worldwide market place for fine art while taking the uncertainty out of the transaction process. We have successful experience in shipping and conducting transactions worldwide. We have a proven expert team ready to assist you through the process. We have innumerable references available to ease any concerns of using our online services." – T. Rhame, OnlineARTGroup.com
"I found OnlineARTGroup.com's procedures for buying art safe and easy. When I was interested in purchasing a Frederick Hart sculpture I was concerned about how the transaction would play out and more importantly that the shipment would arrive quickly and safely. OnlineARTGroup facilitated the entire process with ease. I was not only impressed with their customer service and logistical options but how smoothly the entire transaction was completed. My purchase arrived at my home in Dubai within two weeks time and OnlineARTGroup followed up to make sure that the piece arrived in good condition." - A. Hassan, Dubai UAE
The website itself is simple and straightforward with varying categories of the works of art available, an alphabetical listing of artists' bios, and information under "Buy Art", "Sell Art", and "Art Wanted." All of the terms and conditions are explained in detail so that there are no mysteries surrounding the sale or purchase of artwork.
OnlineARTGroup.com represents artwork from some of the most sought after Modern Masters including Andy Warhol, Roy Lichtenstein, Robert Rauschenberg, Jim Dine, Chuck Close, Thomas Hart Benton, Frederick Hart, Henry Moore, Salvador Dali and Tuan Nguyen just to name a few. OnlineARTGroup.com has a current client base looking for works by Roy Lichtenstein for sale.
Whether you are buying, selling, or trading for your own personal collection or for public or corporate use, OnlineARTGroup.com is the best resource for anything from the smallest acquisition to the "unfathomable" find.
###