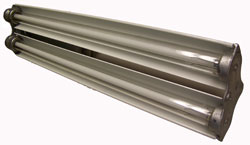 "We see increasing demand for 'hot box' hazardous area applications, where operators are looking for Class 1 Division 1 and Class 2 Division 1 explosion proof lights that will operate under high heat applications,"
Kemp, Texas (Vocus/PRWEB) January 04, 2011
Larson Electronis' Magnalight has expanded its extensive line of explosion proof lighting equipment with the addition of an explosion proof fluorescent light option for hot box applications. The EPL-48-2L-T12HB-SFC Class 1 Division 1 and Class 2 Division 1 fluorescent light is based on their popular EPL-48-2L series which is then upgraded with T12-HO fluorescent tubes and a larger magnetic ballast to compensate for higher heat levels. The addition of T12-HO tubes, larger ballast and other high heat components increases this fixture's operable temperature range to 165 degrees Celsius. This configuration provides a good option for those needing a UL listed hazardous location fluorescent light fixture capable of operating under elevated temperatures.
The Magnalight EPL-48-2L-T12HB-SFC is based on an EPL-48-2L explosion proof fluorescent light fixture which is then upgraded with the high heat components and magnetic ballast options. The EPL-48-2L fixture is a 4 foot long, 2 lamp, UL listed Class 1 Division 1 & Class 2 Division 1 explosion proof light which is also rated for use in paint spray booth light applications. These units are constructed with finned, oversized ballast boxes to improve heat dissipation and allow for the installation of larger ballasts to accommodate high output fluorescent tubes and increased operating temperatures. These explosion proof light fixtures incorporate extruded aluminum housings and reflectors coated with a high gloss finish for durability, high light output and efficiency. The fluorescent lamps are protected by impact and heat resistant Pyrex tubes. The higher temperature rating reduces expected operating life from 5 to 3 years, but provides a good solution for those requiring hard to find explosion proof fixtures suitable for use in hot box applications.
"We see increasing demand for 'hot box' hazardous area applications, where operators are looking for Class 1 Division 1 and Class 2 Division 1 explosion proof lights that will operate under high heat applications," said Rob Bresnahan. "We equip this light with T12 high output lamps and beef up the other components to survive the high heat. The components in this fixture have a life expectancy of 3 years, but there are not many options for high heat applications in hazardous location areas."
Larson Electronics' Magnalight.com carries an extensive line of explosion proof lights, hazardous location lights, intrinsically safe lights, portable explosion proof lights and intrinsically safe flashlights. You can view Larson Electronics' entire Magnalight line of explosion proof lighting at http://www.Magnalight.com. Magnalight can be reached directly by calling 1-800-369-6671 (1-903-498-3363 for international inquiries).
# # #