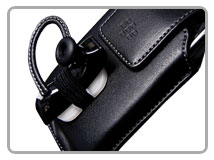 The hundred dollar ear pieces went missing in my purse, my work place, and finally in my car…never to be found again
Anaheim, CA (Vocus/PRWEB) January 07, 2011
BlueKlip is pleased to announce that our "2 Pack" is now widely available to all. What follows is a brief storey about why and how this unique yet innovative product came to be.
From the Inventor:
"In July 2008 the hands free law was passed in my state (California), but my love affair with the hands free head sets started long before this. With my first hands free headset I felt liberated by the freedom of not having to hold a phone to my ear, but like all freedoms there was a price. Due to the small size and high cost I ran into a problem. I was constantly losing my headset. The hundred dollar ear pieces went missing in my purse, my work place, and finally in my car…never to be found again."
"This is how my idea for BlueKlip was born. I went to a craft store with an idea in mind, purchased some basic materials, and with the help of (equally frustrated) friends and family the BlueKlip was born. My hope is that this device will allow people to keep their headsets from being victimized by purses, cars, pockets, and other places of no return."
Testimonials
"I was at my peak of frustration (last Saturday) with getting my feet tangled up in my keyboard and mouse wires when I came across your BlueKlip. I attached it to my tower, run the wires through and now am incredibly happy. I figure with the elastic, the adhesive will not have to work hard at all and it will last a good long time. Now I have to find my bluetooth and attach it to the second one!"
S. McConn, Irvine, CA
"I lost 3 of my Bluetooth ear pieces while on the road… I was interested in finding something to keep it secured in one place, but wasn't sure if there was anything available. After finding out about BlueKlip, buying one and attaching it to my cars dashboard, I am confident that I will never lose another ear piece again. Thanks guys!"
F. Stanbock, Chicago, IL
"I was familiar with a few different products that secure your Bluetooth when not in use, but none of them seemed very practical. Then a friend told me about BlueKlip so I checked it out on the web. Now that is a product that makes sense . . . well done BlueKlip!"
R. Ahuja , Bangor, ME
# # #