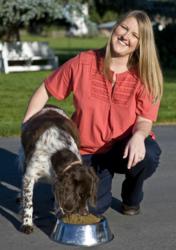 "Is raw dog food worth it? Absolutely!"
Meridian, ID (Vocus/PRWEB) January 06, 2011
Is raw dog food worth it? Absolutely, says Dynamite Marketing's Callie Novak, because minimally processed food helps heat-sensitive enzymes and vitamins remain intact.
Dynamite introduced its Ultimate Dog Food three years ago and saw sales of the all-natural dog food increase 112 percent last year. The meat in the food is briefly heat-treated, just enough to make it possible to store the food without refrigeration while maintaining the heat-sensitive enzymes and vitamins.
Among the ingredients that are sensitive to heat are protease, which breaks proteins into amino acids that are usable by the body, and lipase, which aids in the digestion of fats.
"We introduced the Ultimate Dog Food because most people do not want to take the time to prepare a raw meal each day or to use a product that has to be kept frozen and then thawed daily," she said.
Although homemade dog food may be the ideal, it is impractical for most families, she continued.
"The challenge in making your own raw dog food is determining the nutritional content. The ideal way to make homemade raw dog food -- although impractical for most people, would be to start by producing the meat yourself.
"For example, you could raise your own cattle, and be certain that they were eating a proper diet with all of the needed vitamins and minerals. Your dog, in turn, would have all of the appropriate ingredients in its diet," she said. "Most people do not want to do this.
"If you buy meat for homemade raw dog food at the grocery store, it is impossible to know what the animals were fed," Novak explained. "Your dog may be missing a number of nutrients. A vitamin and mineral supplement is a critical addition to homemade food if you do not raise your own meat.
"The major benefit of using pre-packaged food versus making your own raw dog food is convenience," she added. "The second benefit is that you can determine the exact nutritional content by reading the label."
Ultimate Dog Food contains Dynamite's signature vitamin and mineral supplement, Showdown, in which no ingredients are heated. Showdown is available separately for those who use other natural dog foods, and Dynamite also makes Super Premium Dog Food, a cooked kibble.
People typically mix raw food with kibble for four reasons, she said.
1. Kibble is less expensive than raw dog food.
2. Mixing kibble with raw dog food adds texture. "Adding textures makes the food more appealing to humans," she explained. "Dogs do not appear to care about the texture."
3. A common misconception is that kibble helps dogs clean their teeth. "Giving dogs kibble to clean their teeth is a little like giving children cereal to clean their teeth. It doesn't work," she said. "A food that had been cooked long enough to actually clean a dog's teeth would be devoid of any vitamins and enzymes. Dogs clean their teeth by chewing on raw bones."
4. Kibble adds energy in the form of carbohydrates. "Again, this is a human concept that does not apply to dogs," Novak said. "It would be better to increase the amount of raw food rather than to introduce cereal as a high-calorie filler. Think about what a dog would do in the wild if it needed more calories. It would hunt more small animals to increase its intake of fat and protein, not go find a field of wheat."
A family-owned business that has specialized in animal nutrition for four generations, Dynamite Marketing makes products for virtually every member of the animal kingdom. It has long developed natural food and nutritional supplements for working dogs across the country.
Its specialists can recommend exactly what vitamins, minerals and other supplements best support dogs with arthritis, horses with laminitis, cats whose owners make their own food, and cows with digestive issues. Dynamite has worked with veterinarians and university researchers to produce specialty foods to correct nutritional deficiencies in animals ranging from Canadian muskoxen to peregrine falcons to zoo exotics.
Dynamite uses only natural ingredients, made in the United States for better quality control, in its dog food and other animal feeds.
Although there are no federal standards for the temperature to which either human or pet food can be heated and still be considered "raw," the heat-sensitive components in Ultimate Dog Food remain intact after the minimal processing program.
Dynamite, throughout its history, has always looked at alternatives to animal by-products, antibiotics, chemical preservatives, fumigants, artificial coloring and other additives that have later caused health problems.
Its manufacturing processes are so stringently controlled that Dynamite has a separate mill to produce feed for herbivores, such as horses and poultry that are especially sensitive to contamination from meat needed by other species such as dogs and cats.
Additional information is available at dynamitemarketing.com or by calling (800) 697-7434.
Key word: "raw dog food," "natural dog food, " "Ultimate Dog Food"
###