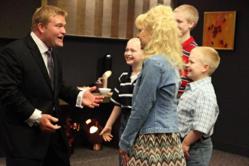 My goal is to take control of my health issues before they get control of me. The first half of my life is done. I want to hit the last half running, not slowing down. That's critical for my business life--and family life.
Las Vegas, NV (Vocus/PRWEB) January 06, 2011
Cenegenics® Medical Institute, the global age management medicine leader, announced that Trump's Apprentice 2010 finalist Clint Robertson signed up as a patient for their customized healthy aging program. Robertson's age management medicine program will be managed under the care of Dr. Rex Anderson, CEO and chief medical officer of the Cenegenics - Dallas center.
Forty-year-old Robertson made it to the final two candidates on Trump's Apprentice 2010 show, NBC's reality business competition series. Now he's kicking off 2011 with a new quest—entering Cenegenics' renowned program that uses science-based protocols and a proactive medical approach to put patients in the lowest-possible risk for age-related disease.
"I'm at the midlife point where most men get overweight, have their whole body out of whack and just not feeling like they used, back in their 20s and 30s. My goal working with Dr. Anderson in a Cenegenics program is to take control of my health issues before they get control of me. I'm not looking for things that treat my sluggishness or age-related symptoms . . . or even quick-fix weight-loss therapies. I want to treat the body as a whole and get down to the root cause of my health concerns—keeping my health optimized, energy levels robust and mind sharp," Robertson said.
What attracted Robertson to Cenegenics was their proactive medical approach—low-glycemic nutrition, exercise, nutraceuticals and hormone optimization when clinically indicated. According to Cenegenics, it's that approach that helps patients like Robertson experience a new definition of aging: restored physical/sexual energy, reduced body fat, leaner muscle mass, balanced blood sugar/insulin levels, increased bone density, sharper thinking, stronger immune system, increased exercise capacity and rekindled zest for life.
Robertson says maintaining a stronger body on all levels is important, especially for the sake of his wife and family.
"I've got a beautiful wife and three boys (14, 12, 10 years old). Having low energy isn't going to cut it. Getting healthier for my business life is important, but it's also critical for my family life. I want to be everything I can be for them and enjoy a higher-quality life going forward. The first half of my life is done—I don't want to spend the last half going a step slower than the day before. I want to hit this last half of my life running, not slowing down," Robertson said.
Robertson's wife Sandy will join his health quest, also signing on as a Cenegenics patient. Fans can follow their Cenegenics healthy aging journey on Robertson's blog, Facebook page, Twitter and YouTube.
For more information about Cenegenics, visit them online. Register for quick information access to the informative Guide to Healthy Aging, Executive Summary and media excerpts. To schedule an interview, please contact Ann Castro, Cenegenics Director of Media Relations: 702.953.1588.
About Clint Robertson
Clint Robertson received a Bachelor of Business Administration in Accounting from Texas Christian University and a Juris Doctorate in Law from Southern Methodist University. Originally from Austin, Texas, Robertson went on to be a successful certified public accountant, real estate attorney and developer, prior to becoming a contestant on Season 10 of NBC's reality business series, The Apprentice. Robertson proved an outstanding competitor, becoming one of the show's two finalists.
About Cenegenics
Cenegenics® Medical Institute—the recognized leading authority in age management medicine —offers their highly regarded approach to optimal health at centers nationwide: Las Vegas, Nevada (Cenegenics Las Vegas and Cenegenics-Life Center); Charleston, South Carolina; Boca Raton, Florida; Dallas, Texas; Fort Worth, Texas; Atlanta, Georgia; Chicago, Illinois; Beverly Hills, California; Philadelphia, Pennsylvania; Washington, DC; New York City, New York; Tulsa, Oklahoma; Jacksonville, Florida. Additional centers are scheduled to open in other metropolitan areas in the near future. With an established presence in the medical community, Cenegenics uses a proactive approach based on solid science and comprehensive evaluation. Their established protocols have been recognized as the next generation of medical science, capturing global attention. Cenegenics offers CME-accredited physician training and certification opportunities in age management medicine via the nonprofit Cenegenics Education and Research Foundation (CERF). Headquartered in Las Vegas, Cenegenics serves more than 20,000 patients worldwide—2,000 are physicians and their families.
###