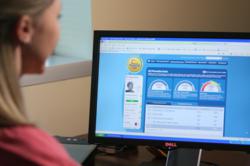 The Prevention Plan has been successful in helping people significantly reduce important risk factors including blood glucose, blood pressure, cholesterol and many others
Bentonville, AR (Vocus/PRWEB) January 06, 2011
January is the month when many Americans look to turn over a new leaf when it comes to their health. This year Sam's Club will give Business, Advantage and Plus members across the country tools to help them achieve their health goals including free monthly in-club health screenings and access to a new health management benefit, The Prevention Plan from U.S. Preventive Medicine.
"Through our member insights, we know our members want to stay in control of their health," said Jill Turner-Mitchael, senior vice president, Sam's Club Health and Wellness. "We're proud to offer these simple health solutions, including free health screenings along with great products like The Prevention Plan, so our members can maintain control of their health decisions, minimize health risks and keep health care costs low for their families, employees and themselves."
The Prevention Plan*
Exclusively priced at $99 for our members, Sam's Club will now offer The Prevention Plan, a personalized, step-by-step health management program designed to help people take control of their individual health. Via an online health assessment and at-home blood test, Sam's Club members can take the first steps in identifying potential individual health issues. From there, a personalized plan is created to address risks. Personal health coaching, ongoing support, a variety of tools and a plan-wide health challenge are provided through The Prevention Plan to keep members motivated to maintain a healthy lifestyle.
"America is moving from the reactive treatment of illness to the proactive preservation of health," said Christopher Fey, chairman and CEO, U.S. Preventive Medicine. "The Prevention Plan provides the knowledge and tools to help individuals improve their health and wellbeing. A recent study in Population Health Management shows The Plan has been successful in helping people significantly reduce important risk factors including blood glucose, blood pressure, cholesterol and many others. We are pleased to make this program available to Sam's Club members."
For more information on The Prevention Plan, customers can call 866-713-1180, or visit http://www.SamsClub.com/healthyliving.
January In-Club Health Screenings
All Sam's Club members across the country can participate in the free monthly health screenings beginning in January. Throughout the year, each monthly event will offer different screenings, including:

Personal consultation from a licensed pharmacist on their prescription drug medications
Blood pressure checkups
Bone density scans
Body mass index assessment
Cholesterol and glucose tests
Hearing and vision screening
For more information, times and locations of health screenings of participating Sam's Club locations, members can visit http://www.SamsClub.com/healthyliving.
Additional Healthy Living Products and Services Available
Sam's Club is committed to lowering the costs of health care for our members. Those members with Plus-level memberships who pay with cash can save 40 percent on generic medications and 8 percent on name brand medications in our pharmacies nationwide.** As always, Sam's Club pharmacists are available to answer questions about the program.
Sam's Club is also a leading provider of affordable health products and services for all its members including:
$4 Prescriptions -- Sam's Club pharmacies offer 30-day generic prescriptions for $4, or people can save even more with 90-day prescriptions for only $10.
Free Rx check up -- Sam's Club's licensed pharmacists provide advice on how to take medications to maximize effectiveness, including when and how to use them. Our pharmacists also conduct a comprehensive assessment of all prescription medications to determine possible interactions, no matter where the prescriptions were filled by the customer.
ePrescribing -- Sam's Club pharmacies accept electronic prescribing to improve prescribing accuracy and patient safety.
Auto Fill -- Sam's Club offers an automatic refill program so that prescriptions are ready at the same time every month so customers never have to worry about running out of important medications.
Ready Reminder -- Sam's Club pharmacies offer free automatic phone or text messages about the status of a customer's prescription.
EZPay -- By placing a credit card number on file with a Sam's Club pharmacy, EZPay allows customers to speed up their pharmacy visit by having the cost of their prescription medications automatically charged to their specified card.
A Sam's Club membership is not required to purchase prescription medication in the pharmacies. For more information, customers can speak with a Sam's Club pharmacist.
*The Prevention Plan is a service administered solely by U.S. Preventive Medicine, Inc., and its designated vendors. The Plan is independent of and not administered by Sam's Club. More information on the Plan is available at http://www.SamsClub.com/healthyliving or by calling 866-713-1180.
**Savings only for cash purchases based on the dispensing Sam's Club Pharmacy's cash price. Discounts not available for purchases covered by health insurance or a state/federal government health care program, on SamsClub.com, or covered by Walmart's Prescription Program or any Sam's Club promotion. Restrictions apply. See your local Sam's Club pharmacy for details.
About Sam's Club
Sam's Club, the nation's eighth largest retailer and a leading membership warehouse club, offers superior products and services to more than 47 million members in clubs across the U.S., as well as in Brazil, China and Mexico. Members save an average 30.4 percent over grocery and specialty retailers. Sam's Club received the highest rankings in Prescription Ordering and Pickup Process in the J.D. Power and Associates 2010 U.S. National Pharmacy Study. To learn more about savings made simple, visit samsclub.com, and look for Sam's Club on Twitter and Facebook.
About U.S. Preventive Medicine®
U.S. Preventive Medicine http://www.uspreventivemedicine.com is leading a global preventive health movement focused on saving lives and money by keeping people healthy and better managing chronic conditions before they progress. The company has developed The Prevention Plan™, an innovative health management program that is based on the clinical science of preventive medicine: primary (wellness and health promotion to keep healthy people healthy), secondary (screening for earlier detection/diagnosis) and tertiary (early evidence-based treatment to reduce complications and disability). The Prevention Plan, which is available to consumers and employer groups, identifies each individual's top health risks and designs a customized plan of action to reduce those risks, supported by health coaching, robust online tools and plan-wide challenges with incentives. The company is accredited in wellness and health promotion by NCQA and disease management by URAC. Follow us on twitter.com/USPM, facebook.com, and youtube.com/moregoodyears.
###