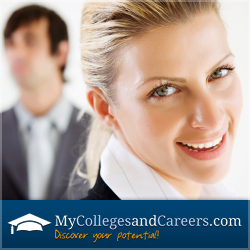 My Colleges and Careers works to help people get the education they need to make themselves more marketable in a tough economy.
Provo, Utah (Vocus/PRWEB) January 06, 2011
A year ago this month, the unemployment rate was 9.7 percent. This number hasn't changed much and while there have been fluctuations throughout the year, some economists say the constant percentage has pros and cons. While the country isn't loosing jobs at an extremely rapid rate, it also hasn't been able to add enough to change the current job crisis.
In 2010, about 100,000 jobs were created each month in the private sector. Experts believe that in order to keep up with the growing population and the number of people going back to the work force, the economy needs to produce about 150,000 jobs a month.
My Colleges and Careers works to help people get the education they need to make themselves more marketable in a tough economy. The website helps students do research about accredited online college courses, colleges, programs and even the cost of online degrees. In a time when jobs are sometimes hard to come by, the site is an invaluable resource.
In December 2010, about 297,000 jobs were created. This is almost three times as many jobs expected by economists. Some experts believe this is a sign that the economy is changing, others think it was just a coincidence.
Some economists predict the unemployment rate will decrease to about 9 percent in 2011. While this decrease may be good news, it is still double the unemployment rate before the recession started.
Students who are well prepared and have earned a degree will have an edge over other applicants as they apply for jobs and will discover that the investment and cost of online colleges is well worth it. My Colleges and Careers helps students earn online degrees by providing information about online universities so students can find the school that is right for them.
So where will all these predicted jobs be? U.S. News and World Report recently released its List of 50 Best Careers of 2011. The list was compiled after research was done using job-growth predictions from the Labor Department. The list also includes jobs that are expected to have an above-average median income. Other factors considered when making the list include turnover, job satisfaction and retirement expectations.
Industries that are expected to have an increase of jobs include healthcare, technology and business. Some of the jobs on the list for the first time include massage therapist, athletic trainer, computer support specialist, sales manager and heating, air conditioning and refrigeration technician.
Some of the top careers in business on the list of 50 Best Careers of 2011 include accountant, public relations specialist and sales manager. The business industry can offer careers in a fast-paced and competitive environment.
The healthcare industry is expected to grow in the next few years. The list includes several jobs in this industry including optometrist, registered nurse, school psychologist, dental hygienist, physician assistant, radiologic technologist and even veterinarian.
Other jobs on the list include film and video editor, multimedia artist, clergy, urban planner, civil engineer, meteorologist and biomedical engineer.
My Colleges and Careers provides unique and invaluable career videos that give students a glimpse into the life of professionals in several industries. The videos can help students explore their options and discover what they need, including training from online universities, to land their dream job.
Some jobs were cut from the list this year due to factors including higher than average unemployment rates. These jobs include funeral director, security systems installer, plumber, landscape architect, cost estimator, market research analyst and loan officer.
http://www.mycollegesandcareers.com is committed to helping students find the best school for them so they can earn their college degree and embark on a rewarding career. A powerful resource for individuals who have full-time jobs and family responsibilities, My Colleges and Careers connects people with the programs that help them earn their degree online.
###