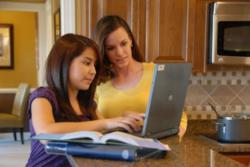 "National Connections Academy has been a life saver for us," comments Asha Miller, mother of two students enrolled in the virtual private school.
Baltimore, MD (Vocus/PRWEB) January 06, 2011
With the New Year upon us, many families with students in grades K-12 are assessing their children's current school environment and considering new options. Families with children enrolled in private school in particular may be seeking more affordable alternatives, given the continued toll our nation's economic doldrums is taking on many families' finances.
In the past few years, numerous K-12 education alternatives have emerged for public school families, including charter schools and virtual public schools. Now there's a similar choice for private school families: virtual private school, which delivers the rigor of an independent school education plus the 21st century skills essential for today's students. Online private schools like the fully-accredited National Connections Academy (NaCA) offer a high quality, highly personalized, and affordable private school education – at a fraction of the cost of traditional private schools.
A virtual private school like NaCA (http://www.NationalConnectionsAcademy.com) is an especially good choice for families making a mid-year school switch, since the virtual format eases the student's adjustment period – and physical transitions for both student and family. At NaCA, learning takes place at home, with a parent or 'Learning Coach' on site, with instruction directed by certified teachers, with whom student and parents communicate frequently by phone and email.
The Miller family of Florida enrolled its two elementary school-age daughters in the NaCA private online school three years ago. Mom Asha says NaCA "has been a life saver for us." She notes, "We enrolled our oldest daughter in NaCA when she was 5 years old. She is academically advanced for her age and we did not want to put her in a regular school setting. We also wanted the opportunity to have our children attend school at home. We enjoy NaCA's curriculum and we think that it challenges our children."
Ms. Miller continues, "The best part of this program is the flexibility it allows. First of all, we are a military family and we move to different states every few years. This program allows our family to move from place to place without causing any interruptions in our children's education. Secondly, it allows us to go on vacation whenever we want to. Our daughters love their interactive LiveLesson® sessions and they love being able to talk to their teachers and other students online. NaCA has allowed our children to be more independent and more confident using the computer and other technology. We would and do regularly recommend NaCA to our friends or to anyone who is looking for a school program that's different, flexible, convenient, yet challenging enough for their children."
Families like the Millers nationwide are turning to online private school for a variety of reasons. Many students require a more flexible approach to learning and want an environment that is more conducive to their needs. Others are drawn to the personalized approach that NaCA delivers – where education is customized and tailored to successfully meet student strengths and weaknesses. And with monthly tuition costs that aren't much more than typical family phone and cable TV bills, NaCA delivers a real educational value. No wonder many students are enrolling in this latest K-12 education alternative– from traditional 'bricks and mortar' independent schools as well as traditional public schools where quality virtual options are limited.
"NaCA delivers the same qualities that Connections Academy is known for -- our incredible curriculum, our supportive school community, and our goal of helping students achieve both academic and personal success -- to students seeking a very flexible private school option," said Dr. Steven Guttentag, Executive Vice President for Connections Academy and Head of School for National Connections Academy. "We are pleased to offer the proven Connections Academy program in a private virtual school serving students and families anywhere."
NaCA (http://www.NationalConnectionsAcademy.com) has a rolling admissions process, so parents can enroll students anytime throughout the year. Parents can get more information on NaCA and enrollment at.http://www.NationalConnectionsAcademy.com.
NaCA has served 600 K-12 students throughout the United States since 2007. NaCA's innovative private school brings the classroom to the student, with a combination of computer-based curriculum, real-time instruction, and time-tested course materials from leading publishers. The virtual school also helps students develop critical academic skills, technology skills, and other 21st Century skills, like information literacy and communication. NaCA offers a diverse and comprehensive curriculum, with courses in a wide range of disciplines. The core curriculum is geared toward preparing students for college and beyond. All science courses include hands-on laboratory units. Students have access to AP, Honors, College Preparatory, and Basic course offerings.
With its part-time option, NaCA also meets the needs of students interested in taking individual courses. NaCA also offers a special "high school to college" program with American Public University that affords NaCA students the opportunity to earn both a high school diploma and an associate degree in a total of four years, saving valuable time and money.
About National Connections Academy
NaCA is accredited by the Middle States Association of Colleges and Schools (MSA), and the Southern Association of Colleges & Schools Council on Accreditation and School Improvement (SACS CASI). NaCA is part of the Connections Academy family of schools which expects to serve more than 30,000 students nationwide in the 2010-2011 school year. NaCA offers the same hallmark qualities as other Connections Academy schools, including dedicated teachers, personalized feedback and guidance, detailed daily lessons plans, and a flexible learning schedule.
# # #