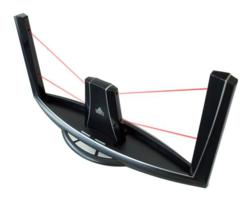 The Beamz provides a new platform to bring my hard rock music to virtually anybody, and it gives me an interactive new way to inspire creativity.
Las Vegas, NV (Vocus/PRWEB) January 06, 2011
Beamz Interactive, an interactive music products company, today announced the release of a new interactive album by the legendary thrash metal bassist of the Grammy nominated band Megadeth, David Ellefson. In addition, the company has expanded its music library with more than 20 video jam songs under the EMI and Disney labels.
The Interactive Album titled, "David Ellefson's Beamz Metal Factory," features a collection of new music to play with the Beamz Player interactive music system, and is available January 18th. The album features seven new songs for Ellefson's fans to experience with the Beamz Player software, MP3 studio cuts of the songs to enjoy with any digital media player, an original David Ellefson Edition of the ShadowBeamz Interactive Music Game and videos of David Ellefson in studio with the Beamz Player. David Ellefson's new content will be marketed to all Beamz users through the Beamz website. The Beamz Player is an innovative musical entertainment product that enables people of all ages and skill levels to play music by passing their hands through four laser beams with up to 12 different music sounds, instruments and clips. Ellefson's album retails for $19.95 at TheBeamz.com beginning January 18th and Amazon.com in February.
At CES, Beamz Interactive is promoting its expanded video jam song offering, which provides Beamz Player users a unique music entertainment experience of "joining the band." These video jam songs are set up for users to add in harmonious instruments and sound effects into the playback of original artist recordings and music videos. Beamz Interactive now offers more than 20 popular video songs from artists under the EMI & Disney labels.
Expanded Music Library
The Beamz Player system comes with 50 songs including 5 video jam songs and 45 original songs created by Beamz composers and top-hit jam songs, which are interactive versions of popular songs composed in the style of the original artist. The Beamz song library includes music to appeal to all ages and music interests including rock, jazz, blues, reggae, country, hip hop, Latin and classical. The Beamz website offers a music library with over a hundred different songs, including original, top hits, kids and video jam songs, for purchase at http://thebeamz.com/shop/category/songs. Beamz Original and Top-Hit Jam Songs are just $2.99 each and Video Jam Songs are $3.99 each.
"David Ellefson's new interactive album includes our Beamz Player music software so that listeners may play each song on their computer and begin interacting with this music by pulling in various sounds and instruments as they see fit," said Beamz Interactive CEO Charles Mollo. "We continue to develop new content to elevate the users' experience with our product. Both the new interactive album, and expanded video jam songs, give consumers of all ages the ability to 'join the band,' and explore their creativity, beyond any electronic gaming experience."
The Beamz Player Interactive Music System is a user-friendly music controller triggered by laser beams that allows consumers to create music by playing light. With Beamz, anyone may expand beyond just listening and experience music in a whole new way - by adding movement and creativity to make music by touching laser beams and interacting with light. For anyone who loves their iPods or playing music games like GuitarHero, the Beamz Player allows you to:

Interact with music videos and "join the band" by adding in harmonious instrument tracks and sound effects that complement popular video songs from leading artists licensed from Disney and EMI
Change the course of top-hit songs and "be the band" by playing with "Jam" versions of popular songs from Coldplay, Lady Gaga, Rihanna, Michael Jackson, The Eagles, The Beatles, and The Black Eyed Peas to name a few
Explore hundreds of different instruments and sound effects with Beamz original song compositions created by independent artists encompassing all music styles and genres
Compete for the high score with ShadowBeamz, the interactive music game that comes with the system.
And, interact with popular artist's interactive albums such as David Ellefson's Beamz Metal Factory and Euge Groove's GROOVE ON THIS!
"What I love about the Beamz is its versatility," said David Ellefson. "The Beamz provides a new platform to bring my hard rock music to virtually anybody, and it gives me an interactive new way to inspire creativity. It opens the doors for people who wouldn't ordinarily pursue playing an instrument. And, with its simple learning curve, anyone play the Beamz."
Electric bassist David Ellefson has become a mainstay in the rock and metal communities now for over 25 years. Internationally acclaimed, David's work has garnered him seven Grammy nominations, multiple gold and platinum records originating from over 20 studio albums and countless world tours. He is currently a member of the band Megadeth and active as a songwriter and performer, record producer, bass guitar clinician and recording artist.
About Beamz Interactive
Based in Scottsdale, AZ, Beamz Interactive, Inc. is an interactive music products company that develops innovative music making and music entertainment products that enable people of all ages and skill levels to play music. Its premier consumer product, the Beamz Player, is an affordable new musical product that allows people to make music by simply passing their hands through any of the laser beams that each triggers different streams of musical notes and sounds. Beamz players can access over a hundred songs, both originals and top hits, for inspiration to create their own music. Beginners and children can play with ease, while more experienced musicians will be amazed at its limitless possibilities to arrange, compose, produce and record music. Powered by a computer through a USB port, the Beamz is easy to install and begin using – reading music is not required. The interactive songs included with the Beamz Player and the additional songs available on the Beamz web site were created using the Beamz Studio software. Beamz Interactive's technology portfolio includes multiple patents, patents pending and trade secrets covering interactive music, software, laser-based controllers, gaming applications, and related designs and devices. The company also offers a Beamz Software Developer's Kit (Beamz SDK) for Windows, Mac and Linux so software developers and hardware manufacturers can enable their products to work with Beamz technologies giving them the ability to write applications, games, and utilities for the patented Beamz hardware devices. Beamz products can be purchased through http://www.thebeamz.com . Check out the Beamz video to see how it works or view the Beamz video gallery.
Contact Info: Cathy Sperrazzo - Eye-To-Eye Communications, Inc. - 858-565-9800 - cathy(at)eyetoeyepr(dot)com
# # #